Stansted Airport bus fire: Flights resume after cancellations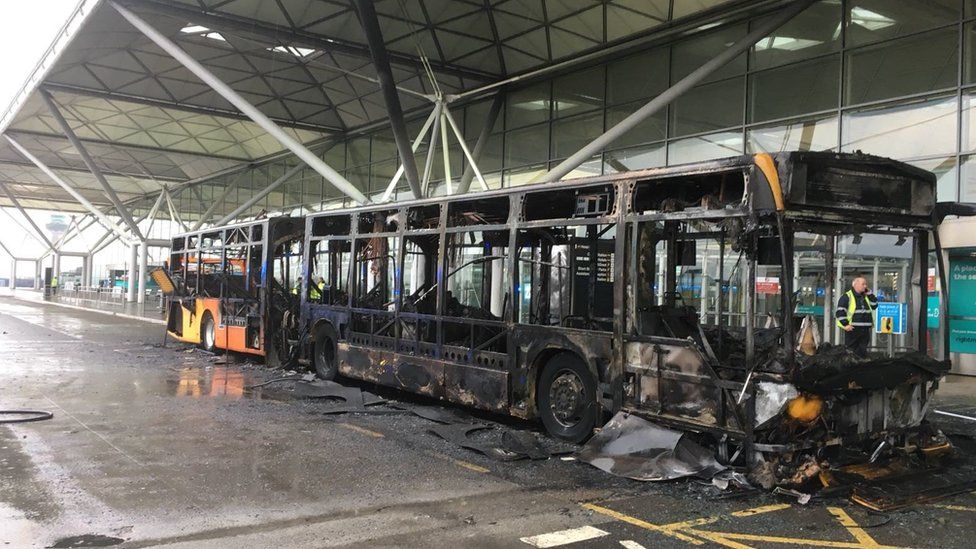 Flights at Stansted Airport have resumed after a fire on a shuttle bus forced departures to be cancelled.
Footage showed black smoke shrouding the terminal building when a bus burst into flames on Friday.
No-one was injured but passengers described an atmosphere of confusion in the aftermath as flight details disappeared from departure boards.
Extra flights are scheduled and airport bosses apologised but said cancelling departures was the right thing to do.
Airport bosses have advised passengers to check flights with their airlines.
Stansted's chief operating officer Brad Miller said the decision to cancel flights had been a "very difficult" one to take.
The blaze, which started at 16:20 BST on Friday after an electrical fault, "completely destroyed" the bus.
It caused smoke damage to "much of the front of the terminal building," said firefighters, who had the blaze under control by 17:00.
Later that evening Stansted Airport tweeted that all flights up until midnight were cancelled and passengers were asked to leave the airport.
Several passengers described chaotic scenes inside the terminal after the fire was put out.
BBC journalist Stephen Fottrell was due to fly to Ireland.
"Once flights started to be cancelled they disappeared from the screen and we had a bizarre situation where the screens went blank. My flight came up as cancelled for just a couple of minutes and then it disappeared," he said.
"People were going to the airline website checking their flights and all the information had gone from there too."
Mr Fottrell told BBC 5Live he had "never seen anything like it".
"The level of confusion among people stood out - they just didn't know what was happening," he said.
"It was the usual situation of very few staff on the ground and they were doing their best but they were saying they didn't work for the airlines."
It was an experience shared by Taylor Fulton-Ward, 18, from Hertfordshire, who was flying to Dublin with her family for the Easter weekend.
She said: "Our flight disappeared from the board with no communication. We went back through to check in to try and re-book the flight but the crowds were crazy.
"Announcements were telling us to leave the building, but the doors were not open - so people began pushing and panicking."
The airport said flights had resumed and were "operating as normal", although it advised passengers to check with their airlines.
Mr Miller said: "Some of the airlines are putting on rescue or repatriation flights so I would encourage everyone to reach out to their airline.
"We should be able to get them to where they are travelling to as quickly as possible."
He added the airport's priority was the "safety and security of everyone using the airport".
"We're absolutely satisfied this was dealt with correctly."
About 100 bags left at the airport during the fire are due to be picked up by their owners or dispatched to their destinations by the relevant airlines.
One of Stansted's biggest carriers, Ryanair, said its flights at the airport were operating normally and it had put on an extra 12 flights.
"We sincerely apologise for any inconvenience caused by these cancellations, which were entirely outside of our control, and we are working hard to re-accommodate all those affected," it said.
It warned travellers to allow extra time for their journeys and to check its website.
Mr Miller said about 100 flights to and from Stansted had been disrupted and staff had made the right decision to cancel further flights after people were moved from the smoke-filled check-in area to the area beyond security.
"The safest place we could get them to in the terminal happened to be airside - that caused some conflict between the people who had been properly screened through security, and people who hadn't.
"We couldn't let anyone fly if we weren't sure that they hadn't mixed with people who hadn't gone through the proper security protocol. While it was a very difficult call, I think [staff] made the right decision."
Related Internet Links
The BBC is not responsible for the content of external sites.