Uni gives Chelmsford escape horses 'hay-plus' for effort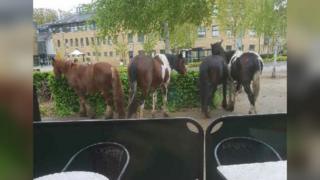 Five horses brought traffic to standstill in a busy town centre after breaking free from a field and cantering around the streets.
They were spotted in Bishop Hall Lane, Chelmsford, stopping for a bite to eat in the bushes outside a sandwich shop.
They escaped at about 10:00 BST on Wednesday, but were safely rounded up later, as Essex Live first reported.
Staff helping out from "neigh-bouring" Anglia Ruskin University gave them a "hay-plus" for their escape effort.
The horses are thought to have broken free from a field near the university before going on a trot about town.
Subway store manager James Taylor told the BBC he was with customers when he did a "double-take".
"A bit randomly, there were five horses eating the bushes outside.
"Everyone stopped to watch, then suddenly they bolted and ended up in the car park outside the local gym."
Probably a little tired and hot by then, the horses were rounded up near the aptly-named Sweat gym.
Essex Police said the great escape was "not a police matter" and "we assisted the owners and helped get the horses back into their field".
The incident led to much horsing around on social media, with one person commenting: "The horse thing is as big as it gets here in Chelmsford."
Another added it was "proof that Chelmsford isn't a one horse town after all."
A spokesman for the university, added: "It's fair to say [these] visitors caught us on the hoof.
"The horses had managed to escape from a nearby field and were soon rounded up and led back by their owner.
"Although they didn't get far, we have to give them a 'hay-plus' for effort."