University of Essex: 1968 'traumatic' student protests remembered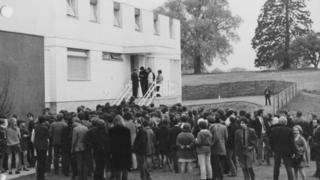 Protests at the University of Essex described as "traumatic and defining" are being remembered 50 years on.
Police were called to a demonstration against chemical and biological warfare at a lecture by a government scientist.
Three students were suspended which led to others boycotting the university's lectures and organising their own.
Documents related to the unrest are being published "in real time" through May and June and a documentary has been made looking at the impact and legacy.
Police were called to the Colchester campus on 7 May 1968 after chemical defence scientist Dr Thomas Inch was shouted at by students as he tried to give a lecture.
Students were suspicious of the ethics of the research work carried out at the government's Porton Down facility near Salisbury.
Vice-chancellor Prof Albert Sloman responded by suspending three students, which led to further protests and activists voting against the university authorities, declaring a free university.
The students were allowed back after a week, but the university acknowledged it was "increasingly associated with protest and radical politics" after the events.
Documents from the time will be published on a website on the same date they first appeared 50 years ago, and a 50-minute documentary called Mustard will be released.
The film's synopsis calls the events of 1968 "a moment in the history of the University of Essex that was both traumatic and, in many different ways, defining".
Its producer Dr John Haynes, from Essex University's department of literature, film, and theatre studies, said materials used included leaflets, fact sheets, resolutions, petitions, statements and open letters.
Student Ana Ferrand Mediavilla, a researcher on the project, said newspaper articles in the archive showed stereotypes about students had not changed much in 50 years.
"I think my favourite quote is from the Daily Telegraph, which said many were living on only sandwiches, cake and baked beans," she added.