Brexit 'Tube-style' map designed by Essex academic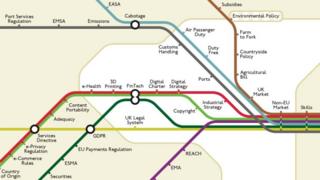 An academic has helped create "Tube-style" maps so people can better understand Brexit.
University of Essex psychologist Dr Maxwell Roberts decided to make the maps to help explain the impact of the UK leaving the European Union.
Each coloured "train-line" will highlight issues for different businesses, such as aviation, agriculture and financial services.
Each station highlights a Brexit issue and each zone an area of expertise.
It aims to help businesses to understand Brexit at a glance and focus on topics and issues important to them.
Dr Roberts, one of the world's leading map design experts, and trade consultant Sietske de Groot came up with the idea.
"Schematic maps can have a massive visual appeal that engages people and draws them in," said Dr Roberts.
"Creating these maps was a fascinating exercise, raising all sorts of questions in my head about how and where business functions."
Different maps have been created for different regions in Britain including the East of England, East Midlands, London and the South East.