Stanway house roof destroyed by lightning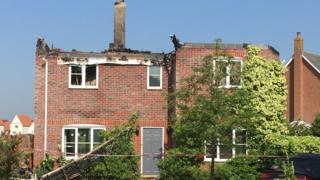 The roof of a house was completely destroyed when it was struck by lightning and engulfed by flames.
Fire crews were called to the property in Wren Close in Stanway, Essex, at 01:38 BST and found "the entire roof of the detached building was alight".
No-one was in the property at the time. It is believed the owners are on holiday.
Neighbour Amanda Williams said she heard a "massive bang like an explosion".
"I just jumped out of bed," she said. "I thought we had been hit.
"The fire took hold very quickly.
"My husband went running down there to see if the family needed help, but then we remembered they are on holiday."
The fire was extinguished by 04:30.
Five buildings in Warwickshire were also struck by lightning earlier, Warwickshire Fire and Service said.
Damage to four of the premises was minor but a site in Henley-in-Arden suffered more damage, with smoke affecting the second floor of an office building.
The other buildings affected were in Kenilworth, Nuneaton and Leamington Spa, where two were struck.