Bouncy castle death pair jailed for three years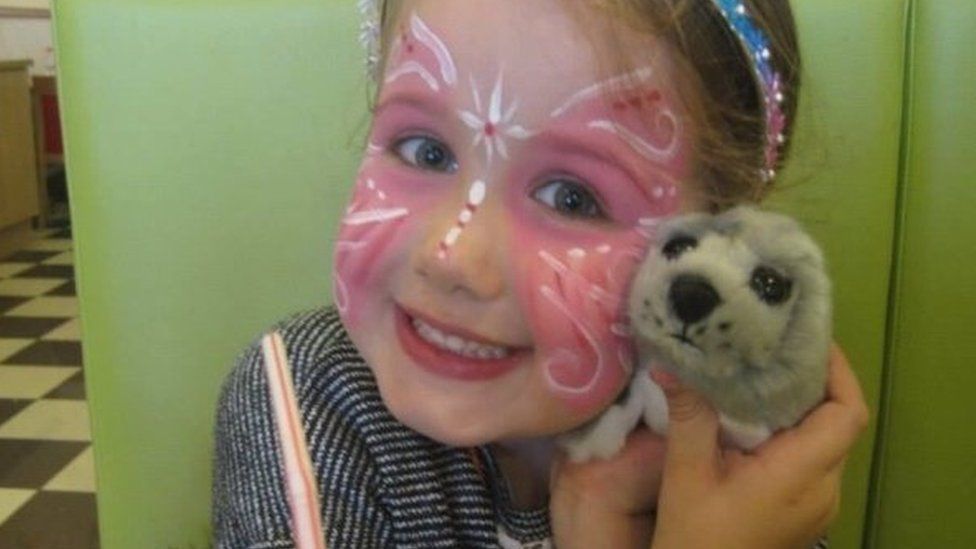 Two fairground workers convicted of manslaughter by gross negligence after a bouncy castle blew away with a young girl inside have been jailed.
Summer Grant, seven, died after the inflatable was carried 300m across a park in Harlow, Essex, in March 2016.
William Thurston, 29, and his wife Shelby, 26, from Cambridgeshire, failed to ensure it was "adequately anchored" to the ground, a trial heard.
The pair were each sentenced to three years at Chelmsford Crown Court.
Mr Justice Garnham told the couple, of Whitecross Road, Wilburton, that they "took the most monumental risk with children's lives by continuing to allow children on the bouncy castle...and that risk-taking cost Summer her life".
He also called on the Health and Safety Executive to take the steps necessary to make it compulsory for fairground operators to have proper wind speed measuring equipment.
Summer, from Norwich, died of "multiple traumatic injuries to the head, neck and chest".
She had been visiting the Easter fair at Harlow Town Park with her father Lee and other relatives.
She was inside the Circus Superdome attraction when it was blown away from its moorings and sent "cartwheeling" down a hill before hitting a tree.
The earlier trial heard Summer only had "a few minutes" left of her turn but Shelby Thurston decided to "let them finish their go" before taking the inflatable down.
Prosecutors said the defendants failed to ensure the bouncy castle was "adequately anchored" to the ground and failed to monitor weather conditions to ensure it was safe to use.
A yellow Met Office weather warning had been in place on the day of the incident, two days before Storm Katie was due to arrive.
Reading a victim impact statement in court, Summer's mother Cara Blackie described how she screamed when she heard of her daughter's death.
Unable to continue reading aloud, Ms Blackie sat down as prosecutor Tracy Ayling QC continued on her behalf.
It read: "I never thought that my Summer playing and having fun on the bouncy castle would end her young life."
The court heard that since her daughter's death, Ms Blackie has suffered from anxiety and depression.
Summer's father, Lee Grant, said in a statement his daughter's death has had an ongoing impact on his life.
"When Summer died, I felt as if I died too. I felt as if I had nothing left to live for because she was my beautiful angel," he said.
Mr Grant said had it not been for his family "I would have been selfish and taken my own life, just to be with her".
The Thurstons were also sentenced to a further 12 months' imprisonment for a health and safety offence, which is to run concurrently.
Related Internet Links
The BBC is not responsible for the content of external sites.