Road ban for 91-year-old drink-driver in Colchester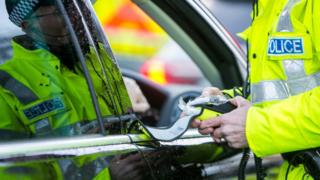 A 91-year-old woman has pleaded guilty to drink-driving after crashing her Audi into bollards and a lamppost.
Pauline Horrigan, of Coast Road in West Mersea, Essex, was arrested on 3 June, in Abbot's Road, Colchester.
A roadside test registered 47 micrograms of alcohol per 100ml of her breath, which is 12 micrograms over the legal limit in England.
She was given a 14-month driving ban and ordered to pay £319 at Colchester Magistrates' Court.
PC Allan Discombe, from Essex Police, said she was the oldest person he had caught drink-driving in his 18 years as an officer.
"I think this case goes to show, no matter your age, we will not accept driving under the influence," he said.
The force is currently running its summer anti-drink and drug driving campaign to coincide with the World Cup, which involves "proactive vehicle stops" around the county.
You may be interested in: