Chelmsford Army and Navy flyover: Council says structure is 'sound'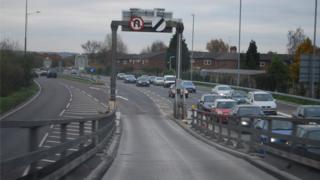 A flyover built 40 years ago is still in "good condition", despite sections of concrete crumbling away, an Essex county councillor has said.
Chelmsford's Army and Navy flyover was built in 1978 as a temporary structure, expected to last for four years.
Residents expressed safety concerns after chunks of concrete were seen to be "deteriorating".
But Kevin Bentley, cabinet member for highways, said the flyover was "sound" and ruled out replacing it.
He said it was inspected regularly and that its superstructure was in good condition.
"Recently, some sections of the superficial concrete cladding have begun to deteriorate as they reach the end of their expected lifespan and a programme of maintenance and renewal has kicked in," he said.
"We have some further work planned to improve the points where the side walls, or parapets, join the main structure."
The flyover, which cost £630,000 to build, was meant to be a temporary solution until the A12 southern bypass opened.
But with thousands of new homes planned for Chelmsford by 2036, there are concerns about whether it is up to the task.
Angela Hyde, of Great Baddow, said it was "not a safe structure", while Mark Springett, Lib Dem city councillor, said it was "riddled with concrete cancer".
Mr Bentley said the county council was looking at what to do with the junction "in the longer term".
In a statement, Essex Highways said: "From regular inspections, we became aware that there were potential defects in the concrete surface under the deck.
"Work was therefore carried out several weeks ago to remove any vulnerable concrete and to repair sections of the surface under the structure.
"Now that any such risks have been removed, we plan to carry out longer-term repairs in the near future. There is no significant risk to the strength of the structure and so the flyover is safe to use."