Essex scuba diver returns iPhone found in ocean to tourist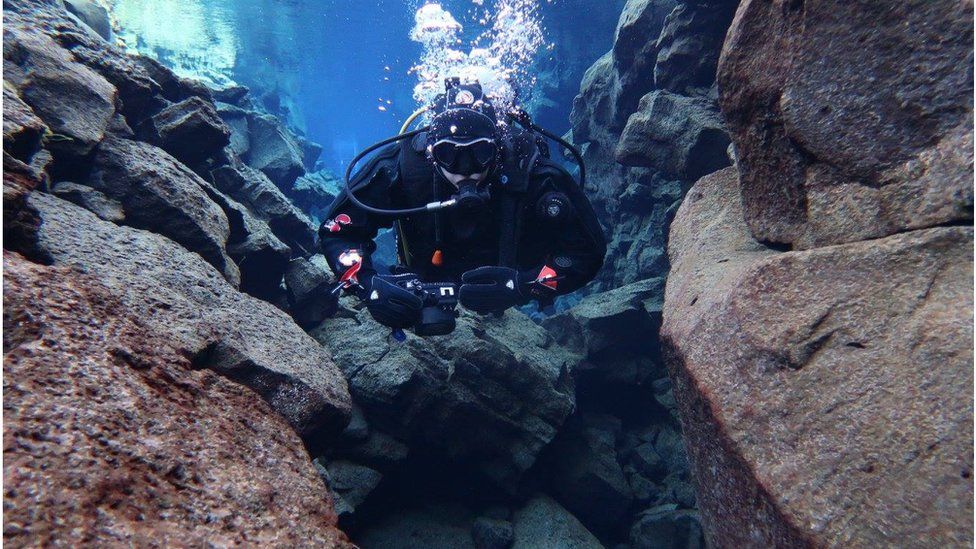 A scuba diver found an iPhone on the seabed off the Dorset coast when it lit up after receiving a text.
Cerys Hearsey noticed the light while drift diving by Durdle Door on Saturday and was surprised to find the working mobile.
The device had been dropped by a kayaking Canadian tourist, who had given it up for lost.
After coming ashore Miss Hearsey was able to track down a relative of the owner and return the phone to Canada.
Miss Hearsey, 34, from Southend, said: "We were passing a lobster pot, and on a rock next to it, I noticed something light up.
"When I turned it over, it became clear it was a phone. I just stuck it in my dry suit pocket and forgot about it until the end of the day."
Miss Hearsey said when she got back on dry land she opened the phone and scrolled through the messages to try and identify the owner.
"Some of the names were pretty unique, so I fired off a couple of messages," she added.
"The owners cousin answered the next morning and we were able to meet before I headed back to Essex - a stroke of good luck because the owner was already on a flight back to Canada and had given the phone up for lost."
Miss Hearsey, who has been diving for three years, said she had heard of others finding phones and other valuables such as keys and jewellery.
She said: "It was nice to be able to help someone out - all of the [owner's] pictures from his holiday were on it which would have been a shame to lose."