Chelmsford police officer 'kicked man in face'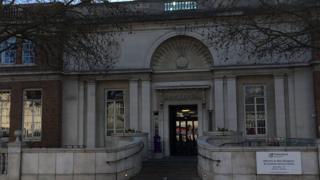 An Essex police officer kicked an arrested man in the head, causing part of an eyebrow piercing to fall off, a misconduct hearing was told.
PC John Senior denies using excessive force in the incident at Chelmsford Police Station on 1 November 2016, and says he was acting in self-defence.
He also denies breaching standards of authority, respect and courtesy.
The hearing is taking place at Chelmsford Civic Centre.
CCTV footage screened at the hearing showed a struggle between the two men, and the use of bad language by both.
The arrested man was described as acting "strangely", and was being watched for his own welfare on the order of a custody officer.
The hearing heard PC Senior intervened after the man began to throttle himself with his hands.
PC Senior said he feared for his safety, leading him to defend himself.
The hearing continues.