'Opportunity missed' to save pregnant Essex woman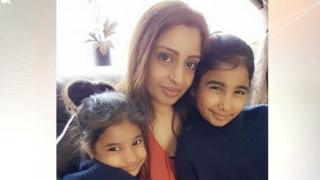 A senior doctor has admitted an "opportunity was missed" to save a pregnant woman who died from sepsis.
Reeta Saidha, from Grays, died in December at Basildon Hospital.
A three-day inquest into her death began on Tuesday at Chelmsford coroner's court.
Mrs Saidha was 15 weeks pregnant when her waters broke. She was admitted to the hospital's emergency gynaecology unit, but died five days later.
She was told the baby would not survive and to wait until her body naturally expelled the foetus, but two days later she was diagnosed with sepsis.
At the inquest Dr Jitendra Jadhav, who was on duty but did not see Mrs Saidha, was asked if the lack of a review by a senior clinician meant an opportunity was missed. He answered "yes".
Mrs Saidha's husband Bhooshan Saidha told the coroner his life had been "flipped upside down because of things that should have been done".
Giving evidence, Mr Saidha said the couple had been told to let nature take its course with no mention of sepsis.
However, on 21 December his wife was in agony and demanded he go back to the hospital and repeatedly told him how much she loved him and their children.
Extremely busy
Despite a sepsis diagnosis at 13:15 GMT that day Mrs Saidha was not taken for surgery until 16 hours later, the inquest heard.
The hearing was also told that it had been an extremely busy day at the hospital.
Consultant Neerja Gupta stated she would have seen Mrs Saidha in person had another emergency not taken up her time.
The hearing continues.