Chelmsford police officer defends kicking man in face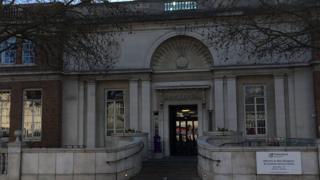 An Essex police officer who kicked an arrested man in the face acted "instinctively", a misconduct hearing heard.
PC John Senior, 38, said he used the "minimal force necessary" to defend himself in the incident at Chelmsford Police Station on 1 November 2016.
He denies using excessive force and breaching police standards of authority, respect and courtesy.
The hearing is taking place at Chelmsford Civic Centre.
PC Senior said the arrested man - who had been brought in for breaching bail conditions - was "one of the most unpredictable people" he had met.
The hearing heard he took action after the detainee began to throttle himself in a police cell.
CCTV footage showed a struggle between the two men, and the use of bad language by both.
'Very professional'
PC Senior, who is currently on restricted duties, said: "I would have been neglecting my duty if I had not stepped in to intervene. I felt it was necessary."
The officer said he had "very little time to think".
"I thought he was going to spit at me or punch me so my instinct was to put my foot out and push him back.
"Unfortunately I made contact with his face," he said.
PC Senior denied "losing his cool" with the arrested man after he could be heard shouting at him in video evidence.
"I was trying to control the situation using voice commands," he said. "We are trained to do that to dominate situations."
PC Cathy Arnold, who attended the 2016 incident with PC Senior, described her colleague as "very professional" and a "tolerant" man.
The hearing continues.