'Ineffective communication' a factor in woman's sepsis death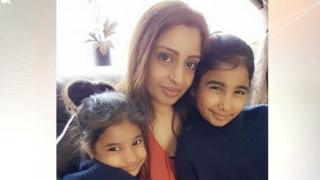 A hospital's "ineffective communication" contributed to the death of a pregnant mother from sepsis, an inquest found.
Reeta Saidha, 38, died at Basildon Hospital on 23 December, five days after her waters broke.
Coroner Caroline Beasley-Murray called for evidence that the hospital was now following sepsis guidelines.
Basildon and Thurrock University Hospital Trust has apologised to the family.
Mother-of-two Mrs Saidha, from Grays, Essex, took herself to hospital when her waters broke 15 weeks into pregnancy.
She was told she would lose the baby and advised to allow her body to expel the foetus naturally but sepsis developed, the inquest heard.
Mrs Beasley-Murray said: "This has been the most sad case and evidence has been upsetting and harrowing for me to hear."
She gave a narrative conclusion at Chelmsford Coroner's Court that Mrs Saidha should have been offered an option to terminate the pregnancy earlier but, due to ineffective communication and a lack of senior review, was not.
Insufficient monitoring, following outdated guidelines and missed opportunities to remove the infection surgically also contributed to Mrs Saidha's death.
'How wrong we were'
Her husband Bhooshan Saidha said his wife had suffered the consequences of a series of failings by the hospital.
He said: "We were in the hospital and we thought we were in the best place and the safest place in the doctors' hands, how wrong we were."
The family is considering a civil suit against the trust and Mr Saidha said he wanted to ensure no-one else would suffer in the same way they had.
The trust has said it has carried out a thorough internal investigation, changing policies and procedures as a result.
A statement by the trust said: "We are offering Mr Saidha and his family a full and sincere apology for missing the opportunity to prevent Mrs Saidha's death. We appreciate that this does not in any way diminish the loss or distress caused to Mrs Saidha's family."
Iona Meeres-Young, a partner at Fieldfisher law firm which is representing Mrs Saidha's family, said: "All pregnant women are at risk of infection and it's high time hospitals took this risk seriously and properly trained staff to recognise and deal with it."