St Osyth rape: Police issue first description of suspect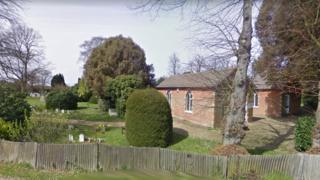 Police investigating a rape six months ago have released a description of the suspect for the first time.
A fresh appeal for information was issued following the attack in St Osyth Cemetery on 14 January between 15:00 GMT and 16:00 GMT.
The victim, who is in her 30s, described the suspect as white, balding, with strawberry blond hair and a large hairy nose.
She also said he was missing a front tooth and had another that poked out.
He was wearing a high-visibility jacket with a brown top underneath and brown trousers.
'Forensic advances'
He drove an old silver Ford car, possibly a Fiesta.
DC Kelly Blackwell, of Essex Police, said officers had made some "advances forensically" in the case.
She added: "We now know that the woman met the suspect in an area locally known as Christmas Tree Island, before walking a short period and getting into a car parked in Jackson Road.
"Two other men were already waiting in the vehicle, which was driven to the cemetery.
"The suspect and the woman then left the vehicle and walked to the cemetery while the other men remained in the car."