Southend Pride: 'Remarkable' support for event's return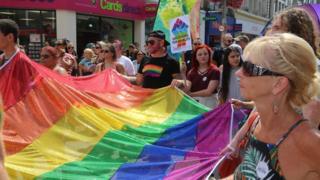 The organiser of Southend's first Pride parade in 15 years has said it had "remarkable" support in the town.
About 750 people attended the parade on Saturday and about 4,500 visited the festival at Warrior Square Gardens.
Chairman Dan Turpin said: "There were twice as many people as we expected, and not all LGBT. There was a real family feeling; the event was for everyone."
He said he was confident it would return next year.
Southend Pride saw a week of arts and cultural events in the town, culminating in Saturday's parade and festival, where there were food stalls and entertainment.
Beforehand there had been a disagreement between a lesbian campaign group and transgender activists, but Mr Turpin said the event passed off "without an issue".
"I had reservations and thought there might be protests but that didn't happen," he added.
"There was a small group of perhaps three people who were shouting at the parade but the most remarkable thing was that a local Christian group stood in front of them with supportive banners."
Mr Turpin said local businesses got behind the event by putting up flags and bunting, and he vowed to make it "bigger and better" in 2019.