Arena Essex Raceway speedway arena to close after 40 years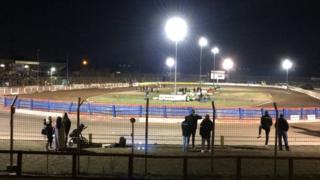 A motorsport arena, which is home to a Championship speedway team, is to close by November citing dwindling support.
Arena Essex Raceway, in Purfleet, announced on Wednesday that its 40th year would be its last with the amount of investment required to maintain it proving too much.
The arena operator added that bad weather had also had an impact.
But the Lakeside Hammers speedway team has said it does not mean the end of the side.
In a statement on Facebook, the arena's landlord Lesley Wootten announced the closure with "deep sadness", but said a downward spiral in the Lakeside Hammers' attendances and cancelled events had made it unsustainable.
She said: "The amount of investment needed to just maintain the stadium plus the continued increasing costs for compliance, insurance and health and safety has led to the Raceway no longer being financially sustainable and therefore with great sadness and a heavy heart we have to advise 2018 will be the last racing season for the Woodroffe family [Lesley's father Chick Woodroffe built the track, which opened in 1978]."
The final event is scheduled to be the Firecracker banger racing on 4 November.
Last year, the Woodroffe family sold the site to London Strategic Land, which has a proposal to build 2,500 homes in the area.
Jon Cook, co-promoter of the Lakeside Hammers, who race in speedway's second tier, said the arena's closure had felt like a possibility for some time.
He said: "I wouldn't say it means the end of the Lakeside Hammers, but it is a disappointment for four-wheel motorsport.
"We are encouraging the new landlords that the accommodation of speedway in the region is an important part of the planning process."
Mr Cook said talks were ongoing for the Hammers to remain at the site for the 2019 season while the planning process takes place.