'Arguing couple' diverted Jet2 Gran Canaria flight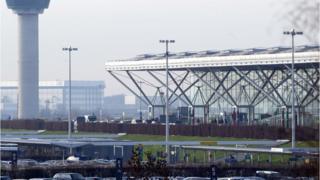 A flight from Stansted to Gran Canaria had to be diverted to Portugal after a couple started arguing in mid-air, a court has heard.
The Boeing 737, flying to Las Palmas, was diverted to Faro on 6 July 2017.
Ronald St Ville, 53, and Pauline Gordon, 66, both of Stewart Road, Stratford, east London, have been charged with endangering the safety of an aircraft.
The couple denied the charges at Chelmsford Crown Court.
Prosecutor Peter Gair said the pair were flying together when an expletive-riddled argument started over a text message.
A fellow passenger told the jury he heard the couple arguing and swearing intermittently for over an hour and thought they were drunk.
The witness, a former policeman, said Mr St Ville had threatened to hit Ms Gordon in what he described as an "argument between a domestic couple".
The court heard the cabin crew and pilot made the decision to land the Jet2 plane in Portugal and remove the couple after separating them.
The trial continues.
You may also be interested in: