Ryanair: 'Tinkerbell' thrown off flight at Stansted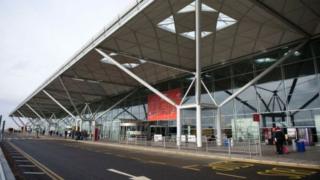 A "disruptive fairy" forced delays on a Ryanair flight after armed police were called to remove him from the plane.
"Tinkerbell" and another passenger had caused trouble on the flight due to take off earlier from London Stansted Airport for Krakow, Poland.
The man, dressed as the Peter Pan character, and his fellow passenger, were given words of advice by Essex Police and booked on a later flight.
Ryanair said it would "not tolerate unruly or disruptive behaviour".
One passenger on the plane tweeted to say his flight had not yet taken off because of "a man dressed as Tinkerbell".
'Bob the Builder'
He later said armed police had turned up and "one officer has adjusted the man's wings".
"Meanwhile, the man dressed as Bob the Builder has been exceptionally well behaved," he added.
A Ryanair spokesman confirmed "police removed and detained two passengers ahead of this flight from London Stansted to Krakow who were disruptive".
You may also like:
An Essex Police spokeswoman said all its officers at Stansted were armed, and that the two men were "co-operative on being asked to leave the aircraft".
She confirmed one of the men was dressed as Tinkerbell, but was unable to say whether Bob the Builder had been removed from the plane, or remained onboard.