Grays launderette owner 'attacked by masked gang'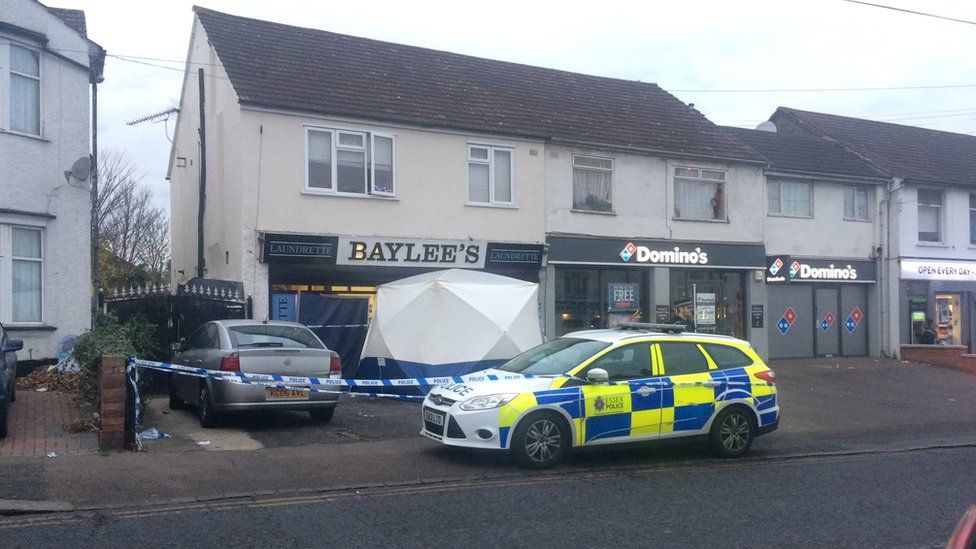 A launderette owner has told a court masked assailants threatened to cut off his head and feet during a break-in.
Giving evidence, Daniel Wood, 39, told Basildon Crown Court a group of men posing as police attacked him with a hammer and axe at his home in Grays.
During the break-in, on 4 December, 39-year-old Paul Robertson from Milton Keynes was killed.
Michael Williams, 36, and Christopher Salvador, 31, deny aggravated burglary and possession of an imitation firearm.
Mr Williams, of Milton Keynes, and Mr Salvador, of Watford, are alleged to have not entered the property but played supporting roles in the burglary.
Three men from the Watford and Milton Keynes areas - Joseph Pearl, Jerome Johnson and Harrison Fryer - have pleaded guilty to their part in the raid.
Mr Wood told the court he was at home with his fiancée and children when attackers burst into his flat above Baylee's launderette in Southend Road.
Giving evidence, the father-of-three said: "From start to finish, it was aggression. They were screaming, 'Get on the floor now, armed police'."
After telling his family to "do what they say", Mr Wood was "pushed upstairs" into one of the bedrooms where the hammer attack began, the jury heard.
He told jurors he wrapped himself up in a bedsheet to defend himself and said: "They started screaming, 'Where's the money, where's the money, under the floorboards?' and I told them, 'I ain't got floorboards, it's a tiled floor'.
"One of them pulled the bedsheet back and said, 'I'll chop your head off and I won't lose a night's sleep over it'."
Mr Wood told the court the assailants had pointed a gun at his son and tried to "chop my feet off with the axe".
He gestured to the back of his ankles in the witness box to show the "chop marks" left by the attack.
Police arrived on the scene shortly afterwards to find "blood everywhere" and Mr Robertson dead at the bottom of the stairs.
About £2,800 Mr Wood had been saving to buy Christmas gifts was also stolen during the raid.
Mr Wood, who admitted using different names over the years, including "Tony" and "Danny Wash", was arrested on suspicion of murder but released.
He denied being a drug dealer during cross-examination after Mr Williams' lawyer Kyri Argyropoulos put to him that one of the attackers left the premises with a holdall full of "smelly cannabis".
Related Internet Links
The BBC is not responsible for the content of external sites.