Army and Navy flyover to close for damage repairs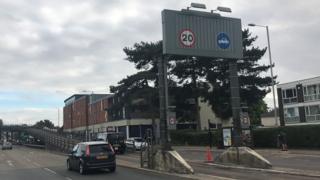 A 40-year-old flyover in Chelmsford is to be closed due to safety fears.
Essex County Council said the structure will shut for repairs from 21:00 BST after an inspection found one of the supporting columns was damaged.
Motorists in Chelmsford are being advised to expect delays once the main route into the city is shut to traffic.
The Army and Navy flyover, which was built as a temporary solution in 1978, recently closed for three weeks for "essential repair works".
In a statement, Conservative councillor Kevin Bentley, the council's cabinet member for infrastructure, said: "This damage is something which has happened very recently.
"We don't know how it happened, and our task now is getting to the bottom of the issue so we can ensure the structure is safe.
"We are sorry for any inconvenience, but I am sure road users and residents would agree there can be no compromise over safety."
On Monday, Chelmsford's Conservative MP Vicky Ford urged the government to take action over flyover in the wake of last month's Italian motorway bridge disaster.
Speaking in Parliament, she said: "I'm not going to suggest it's on the brink of an Italian disaster but it will need replacing."
Councillor Mark Springett, Liberal Democrat for Moulsham Lodge, has previously said the flyover was "riddled with concrete cancer" after chunks started crumbling away.
As part of a programme of works this summer, the flyover was resurfaced and improvements were made to the concrete structure and drainage system.
It also reopened last month with a new lower speed limit of 20mph, reduced from 30mph.