Essex sex assault CSI had 'exceptional record' as officer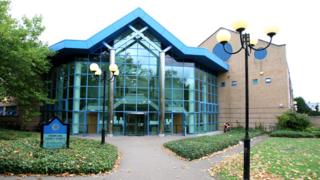 A former police officer accused of sexually assaulting two women had an "exceptional record" with the police, a court heard.
Kevin Dowley, 62, of Burgess Avenue, Stanford-Le-Hope in Essex, served for 30 years in the Metropolitan Police before becoming a forensics investigator with Essex Police.
Two woman have accused him of sexually assaulting them when he met them as victims of crime during July and August in 2016.
Mr Dowley denies the allegations.
His barrister Paul Evans said Mr Dowley was of "impeccable character" and that it was his belief that the women, who cannot be named for legal reasons, were either "fantasists", "confused" or "deliberately dishonest".
Mr Evans said: "He is a man of impeccable character. He had an exceptional record throughout his 30 year career as a Metropolitan Police officer. He simply does not accept any allegations."
He added Mr Dowley, who had received complaints from two women in 2014, may come across as "creepy" due to having a hearing difficulty which meant he gets close to people and focuses on their face to understand them.
The crown has alleged Mr Dowley put his hand inside one woman's dungarees and pulled down another woman's leggings to look at her tattoo during is work as a crime scene investigator.
Emma Nash, acting for the prosecution, described Mr Dowley as having a "tattoo fetish" and targeting vulnerable women.
The trial continues.