Tui holiday rep 'waved gun around' at Tenerife resort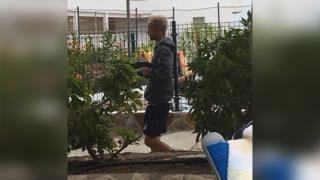 A holiday rep waved a gun around by the side of a hotel swimming pool, leaving holidaymakers "horrified", it has been claimed.
Steven and Mary Fuller, of Sible Hedingham, Essex, say the behaviour was "completely inappropriate" in light of the Tunisia beach massacre in 2015.
They complained to travel firm Tui about the incident at Tenerife's Aguamarina Golf Hotel.
A Tui spokesman said teams would be reminded of "entertainment guidelines".
Mr Fuller, 60, and his 69-year-old wife flew to Tenerife for a two-week holiday earlier this month. The couple said they had "no problem" with their hotel but were concerned by the Tui staff on-site.
They say the behaviour of the rep was irresponsible considering the similarities with the Tunisia terror attack, where 38 people were shot dead at a popular beach resort.
"He started waving it around, pointing it at people and shooting," Mr Fuller said. "It had nothing in it but it was making people jump."
Mrs Fuller said they found out afterwards that the gun was an air rifle but it was not loaded. "But at that point, we didn't know that," she said.
"We were just absolutely horrified. If anybody who's been on that Tunisia beach had been there, they would have been mortified."
'Sensitive nature'
Mrs Fuller added that the incident had "completely ruined our holiday" and they made a formal complaint to the hotel, but other holidaymakers "seemed to think it was just a joke".
The couple said the day before the gun incident, a different rep had taken a motorised hedge cutter off a gardener and started waving it around.
A Tui spokesperson said the pair were the only people to have made a complaint. The company said it did not know the context for using the gun, but that it "would have been for entertainment purposes".
"We're really disappointed to hear about this activity due to its sensitive nature and would like to thank the guests for bringing it to our attention," Tui said in a statement.
"We've followed up to re-remind our teams and hotel partners of our entertainment guidelines."