Buckhurst Hill care home murder: Antony Jennings jailed for life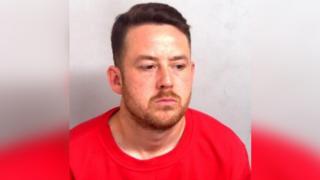 A man who murdered his 94-year-old grandmother by slitting her throat has been jailed for life.
Antony Jennings killed Ruby Wilson at Forest Place Nursing Home in Buckhurst Hill, Essex, on 29 November 2017.
At Chelmsford Crown Court, 33-year-old Jennings, of Clinton Crescent, Hainault, had denied murder but was convicted by a jury.
Judge Patricia Lynch described it as a "truly tragic case". Jennings will serve a minimum of 22 years.
At the start of the trial he had pleaded not guilty to murder but admitted manslaughter on the grounds of diminished responsibility.
Three psychiatrists told the court Jennings showed behaviour "consistent with paranoid schizophrenia" including "psychosis, moments of paranoia, delusions and bizarre beliefs".
However, jurors ruled Jennings' mental health issues had not significantly impaired him at the time of the killing, and found him guilty of murder.
The court heard that on the day of the murder, Jennings signed in to the care home at about 12:15 BST.
Staff saw him drinking tea with Mrs Wilson, who suffered from dementia, and said she seemed "very pleased to see her grandson".
However, jurors were told that soon afterwards, Jennings tapped a nurse on the shoulder and said: "I'm sorry, I just killed my nan."
Police were called to the care home at about 13:20 BST where Mrs Wilson was found "slumped" in her bedroom on the Kingfisher Unit, surrounded by a "significant amount of blood".
After the killing, Jennings said he had "wanted to get that done for ages" because he "couldn't take it any more", the court heard.
He told a police officer: "She doesn't know who anyone is. She is in agony. She was dead anyway. She was gone as far as I was concerned."
Without justification
Police said Jennings had a history of drug abuse and his mental health had deteriorated in recent years.
Judge Lynch said: "Mr Jennings this has been a tragic case in many, many ways.
"Ruby Wilson was entirely innocent, she was extremely vulnerable, she was it seems, from the staff at the home...happy in her circumstances and you took her life without justification.
"Mercifully she did not suffer but nonetheless you took her life and the jury have rejected the doctors' evidence in relation to diminished responsibility."
Jennings' family, who had been present throughout the trial, were praised for their dignity by the judge.