Ryanair flight rant man says he is 'not a racist'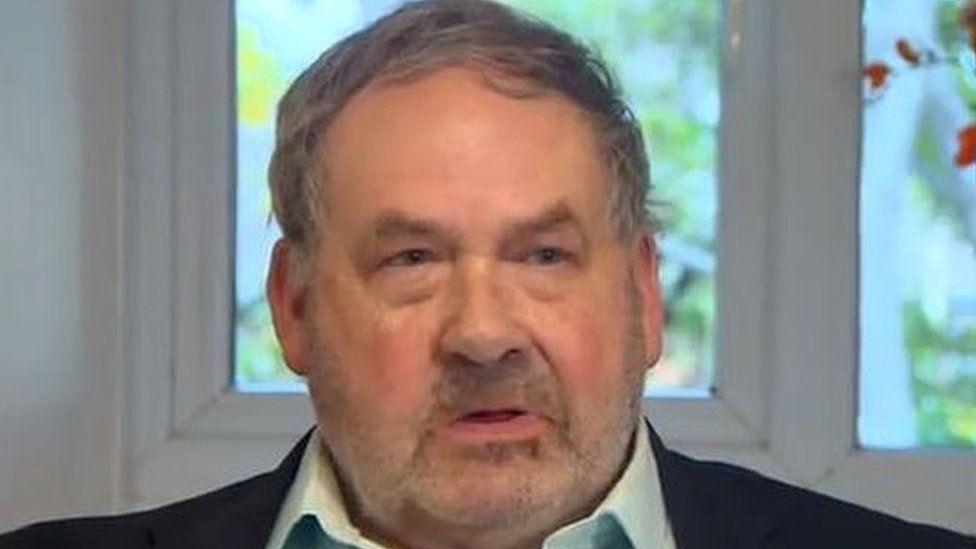 A Ryanair passenger who was filmed launching a tirade at an elderly woman on a flight has apologised and denied he is a racist.
David Mesher was on a flight from Barcelona to Stansted on 19 October when he began insulting Delsie Gayle.
He told ITV's Good Morning Britain he was "not a racist person by any means" and it was "just a fit of temper at the time".
Mrs Gayle, 77, and her daughter Carol Gayle have rejected his apology.
In the film - viewed on Facebook more than 1.8 million times - Mr Mesher can be heard using racial slurs to Delsie Gayle and threatening to "push" her to another seat.
He also shouts at her: "Don't talk to me in a foreign language, you stupid ugly cow."
Speaking on Friday, Mr Mesher, from Birmingham, said the dispute with Mrs Gayle began over getting to his seat.
"I probably lost my temper a bit and ordered her to get up," he said.
"I'm not a racist person by any means and it's just a fit of temper at the time, I think.
"I apologise for all the distress you've had there and since."
Asked if she accepted the apology, Mrs Gayle said: "I don't think so. You must forget and forgive but it's going to take a long time for me to get over what he has done to me."
Carol Gayle said: "He says he wasn't racist; he wouldn't be saying words like that if he wasn't racist."
The pair have also renewed their criticism of Ryanair, saying they are still yet to hear from the budget airline.
'Regrettable and unacceptable'
In a statement issued on Friday, the airline said it became aware of the incident late on 20 October and reported the video to Essex Police the following morning, together with the details of the passengers involved, and had written to Mrs Gayle the same morning.
It said the company's Spanish cabin crew were aware of an argument between two passengers but were not aware of the racist comments until they were shown the video after the flight landed in London.
The crew had followed company procedure to defuse an argument, which was to separate the passengers by offering to move one to alternative seating. Ryanair said Mrs Gayle was moved at her request, to a seat next to her daughter, and both passengers involved in the altercation confirmed they were "OK".
The airline said it had written, both by email and letter, to Mrs Gayle to apologise.
In the statement, Robin Kiely from Ryanair again apologised for the "regrettable, and unacceptable remarks" made to Mrs Gayle.
"We believe that by reporting this matter immediately to Essex Police, and by apologising in writing to this customer early on Sunday morning, Ryanair treated it with the urgency and seriousness it warranted," he said.
You may also be interested in:
Officers from Essex Police are investigating and Mr Keily said Ryanair was giving the force its "full co-operation and assistance".
The incident took place on the tarmac of Barcelona Airport before the plane departed for Stansted, and police have said they will pass on information to the Spanish authorities in due course, in line with national protocols.
Officers from West Midlands Police have assisted Essex Police by speaking to Mr Mesher in his sheltered accommodation in Yardley Wood on Thursday.
Ryanair has been criticised for its handling of the incident, with a petition calling for the airline to apologise and compensate Mrs Gayle gaining more than 304,000 signatures.
Related Internet Links
The BBC is not responsible for the content of external sites.