NHS Facebook adverts 'to help lads with mental health'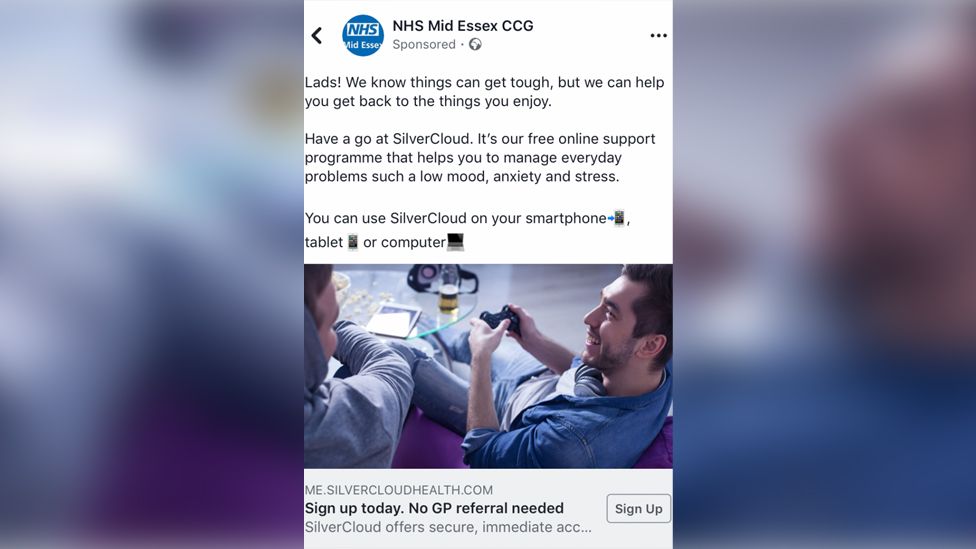 An NHS group is using social media to tell "lads" about the free mental health support it offers.
The paid-for Facebook adverts appear on the phones and computers of men aged 18 to 45, who are most at risk when it comes to taking their own lives.
Mid Essex Clinical Commissioning Group (CCG) hopes the promotional messages will encourage people to seek help.
Paul Stevens, the director of Chelmsford's Samaritans branch, said it was "a great use of technology".
The latest adverts promote Mid Essex CCG's SilverCloud programme, which offers free online support to help people manage stress and anxiety.
One of the adverts said: "Lads! We know things can get tough, but we can help you get back to the things you enjoy."
Daniel Doherty, director of clinical commissioning, said it had delivered "great results".
After a four-week trial to promote the group's Health in Mind service, the number of visitors to its website rose from 24 visits a month to 341.
The group paid about £300 for the four-week promotion, with each click costing 42p.
Dr Caroline Dollery, Mid Essex CCG's clinical chair for mental health, said the online initiative had been a "cost-effective" way to attract new referrals.
She said the organisation chose not to post pictures of "people looking really gloomy".
"What we wanted to give people was a sense of hope, that they aren't alone and can actually get better and recover," she said.
Mr Doherty said the social media approach had "huge potential for the wider NHS".
He added: "Based on the success of the Health in Mind pilot, we have already launched two new promotions for mid Essex services, including the online SilverCloud mental health service."
Suicide is the biggest killer of men under 45. In Essex, more than 400 people took their own lives between 2014 and 2016.
Related Internet Links
The BBC is not responsible for the content of external sites.