Loughton puppy theft: Essex Police search for car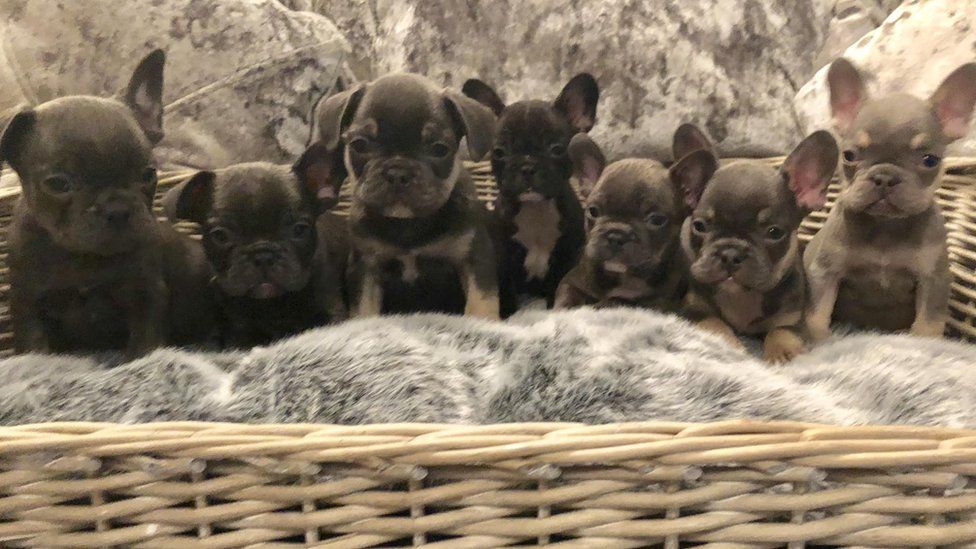 Police searching for 11 stolen puppies are trying to track down the driver of a car seen in the area at the time the dogs were taken.
A white Volkswagen Polo was spotted in The Lindens, Loughton, between 13:30 GMT and 14:20 on Monday.
Four dachshunds and seven French bulldogs were stolen from a property in Hogarth Reach after three men forced their way inside.
Owner Mark Orley has offered a £50,000 reward for the dogs' safe return.
They were taken when a man in a high-visibility jacket claiming to be from a utility company knocked on the door of Mr Orley's home and burst in.
He was accompanied by two other men who were wearing gloves and hooded tops and had their faces covered.
Mr Orley said they threatened his children before stealing the puppies as well as two handbags.
After initially offering a £20,000 reward on Facebook, Mr Orley upped the amount to £50,000 in a bid to get the animals back safely and said he wanted to make the dogs "too hot to handle".
Det Con Jody Greenfield, from Loughton CID, said: "I need to trace this vehicle and speak to the driver as they may have information which is important to our investigation.
"We remain very concerned about the welfare of the puppies, who may not be able to survive beyond a few days unless they're in the hands of experts."