Becky Parker killing: Matthew Smith 'slipped through the net'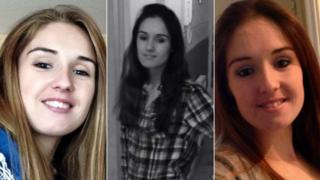 A man who strangled his pregnant ex-partner with cable ties "slipped through the net", a report has said.
Isobel Parker, 23, who was known as Becky, was strangled at her flat in Burnham-on-Crouch, Essex, in July 2015.
Matthew Smith was found guilty of her murder the following year.
A report said mental health services had not assessed if Smith was a risk to his family when he was being treated for suicidal thoughts after the break-up.
Ms Parker had ended her relationship with Smith in December 2014 but they remained in contact, Maldon Community Safety Partnership's Domestic Homicide Review said.
Although the report is anonymised, the BBC understands the report relates to Ms Parker's death.
The report said Smith, who was jailed for life, had not attended an appointment after being discharged from care but there was no indication whether he had received the letter.
Smith himself told the review he had felt "isolated" upon leaving hospital and had not had a great deal of support from services.
The review said there was no indication Smith had been asked any questions to establish whether he posed a risk to his family.
Among the recommendations made by the report, which has been put together by representatives from a range of agencies, was for risk assessments to be carried out surrounding patients with suicidal concerns causing harm to family members.
Ms Parker's body was found in the bath at her flat in Booth Place on 17 July 2015.
She was six months pregnant with her new partner's baby at the time of her death and was buried with her unborn child in her arms.
The murder trial in March 2016 heard Smith was "unhappy" and "very jealous" that Ms Parker was pregnant by her new boyfriend.
Smith was told he would serve a minimum of 18 years for her murder.
Roger Hirst, the Police, Fire and Crime Commissioner for Essex, said: "Breaking the cycle of domestic abuse is a key priority in my police and crime plan.
"I know Essex Police and our partners across the county are working hard to reduce the impact of this awful crime on children and families.
"Essex Police has made great strides in improving safeguarding processes."
Essex Partnership University NHS Trust Foundation, whose service Smith had used because of his suicidal thoughts, has been contacted for comment.