Harwich Kindertransport events mark 80th anniversary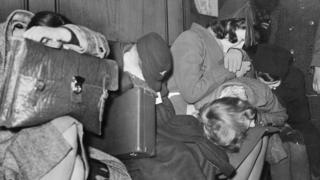 The journey of thousands of children who fled the Nazis is to be recreated to mark the anniversary of the rescue.
The Kindertransport to the UK started after the anti-Jewish violence of Kristallnacht in November 1938.
The first children arrived by ferry at Harwich, Essex, on 2 December. Some were taken to London, and others to holiday camps such as Dovercourt Bay.
David Cain, from the Harwich Haven: Surrender & Sanctuary project, said it was "crucial" to share their stories.
In total, 10,000 mainly Jewish children - ranging from infants to teenagers - were evacuated from Germany and territories held by the Nazis before the outbreak of the World War Two.
Many never saw their parents again.
The lottery-funded project has organised a 1930s-themed train which will leave Manningtree station in Essex and travel to Harwich Town station.
School children will also join actors to recreate poignant scenes on platforms at stations between Ipswich and London.
Talks, film screenings and art sessions will also be taking place, and a travelling exhibition called A Thousand Kisses will be on display at the Harwich Mayflower Heritage Centre until 7 December.
Mr Cain hoped the celebrations would "engage people as they go about their daily lives", and make them think.
"What people tend to forget is that many of these children didn't speak English, so it was very much a case of 'into the arms of strangers'," he said.
"It must have been terrifying.
"Not many of the Kindertransport children are still alive, so it's important for us to tell their story and be their voice."
Earlier this year, one Kindertransport immigrant, who was just 19 months old when he arrived at Harwich, took part in a commemorative cycle ride with his grandson from Berlin to London.
At the end of the ride Paul Alexander, now 81, said: "The journey that I've completed today is a victory over oppression and over everything that I was sent away from."