Brightlingsea gravestones smashed by stolen car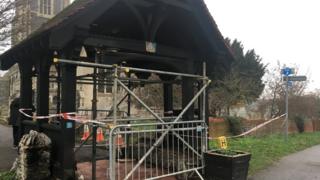 Gravestones and a lychgate have been damaged after a stolen black Audi crashed into them.
Police said the front gate at All Saint's Church, in Movers Lane, Brightlingsea, as well as several headstones were damaged late on Tuesday.
The driver fled the scene on foot and the car, which was stolen from Bellfield Avenue, was recovered.
Officers are asking for any dashcam footage of the incident at 23:40 GMT.
Nine gravestones have been smashed including one dating from 1849.
The community has started an online fundraising campaign to help repair the church, which dates back to 1250.