The Weeknd sued over Starboy track 'copying'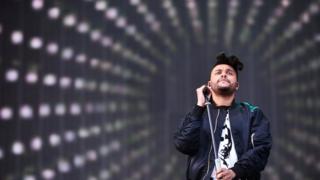 A trio of British songwriters who have never had a hit are suing Canadian superstar The Weeknd for allegedly copying one of their songs.
Brian Clover, Scott McCulloch and Billy Smith say the multi-million selling artist's A Lonely Night used a key part of their 2004 song I Need to Love.
Mr Clover, 47, from Holland-on-Sea, Essex, said he first heard the song while shopping in Colchester.
The Weeknd's legal team reportedly denies the claim.
Father-of-five Mr Clover said his trio had tried to sell several songs, including the one in dispute, via a record label.
After no buyer was found, Mr Clover said the rights were returned on 11 November 2016.
'David and Goliath'
Two weeks later, The Weeknd's album Starboy - featuring A Lonely Night - was released and went on to be certified double-platinum.
Mr Clover and his song-writing partners said they had been locked in pre-court proceedings with The Weeknd since the start of the year, as first reported in The Sun.
He described it as a "David and Goliath battle".
Mr Clover said: "We had the song on hold for a few things like Pop Idol but it never got used so then a label took the song on to flog it but it never got sold.
"So we got it back...they released the rights of the song to us."
Mr Clover said an in-house writer from the label had worked on tracks on Starboy and he believed this was where the link came from.
He said: "We have never had a hit, we have had songs on hold but never got over the line.
"It is frustrating because it has always been our goal to have our names on an album by an artist."
Mr Clover said he had initially written to The Weeknd's management hoping for an amicable arrangement but this had been rejected.
According to The Sun, UK law firm Russells is representing The Weeknd and has denied the claims.
The BBC has approached Russells for comment.