Sacked Essex chief fire officer lodges pension complaint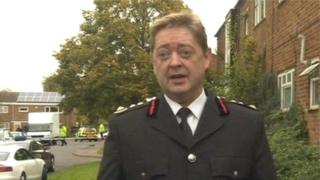 A fire service is facing fresh legal action from its former top officer in a dispute over his pension arrangements, the BBC has learned.
David Johnson was dismissed by Essex Fire and Rescue Service April 2017.
Mr Johnson has filed a formal complaint with the Pensions Ombudsman over alleged negligence regarding his ill-health pension.
It is understood the office of the Police, Fire and Crime Commissioner is aware of the complaint.
Mr Johnson has named Roger Hirst, the Police, Fire and Crime Commissioner, as the respondent in the case.
The BBC understands the paperwork for the complaint has been sent to the ombudsman but Mr Johnson said he was unable to comment further on the case.
David Johnson was initially suspended by the fire service in April 2015. Reasons for the suspension were never made public.
Mr Johnson, who has always denied any wrong-doing, was suspended on full pay for three years.
Before he was dismissed, Mr Johnson faced 11 allegations of misconduct, one of which was dropped.
An independent report by a leading barrister found there was no evidence to support the claims.
A settlement between the service and Mr Johnson was confirmed earlier this year following mediation at an employment tribunal.
You may also be interested in:
The legal case relating to his dismissal cost the service about £1m.
The ombudsman, which last year upheld 29% of cases, said it could not comment on the case or confirm whether it had received the complaint.
Darren Horsman, assistant director for communications for the fire service, said: "Following mediation a settlement was reached and the legal case has been concluded."