Essex speedboat crash inquest: Death 'accidental'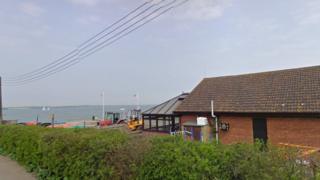 A "much-loved family man" died in a "tragic" speedboat accident while watching his grandson water-ski, an inquest heard.
Paul Hodgkin, 57, was on his vessel with members of his family on the Essex coast when it collided with another boat on 3 August.
His son-in-law dived into the water to carry out CPR, but Mr Hodgkin was declared dead at the scene.
Coroner Caroline Beasley-Murray concluded it was a "tragic accident".
Mr Hodgkin, of Southminster, was at the wheel of the speedboat when it hit a moored vessel in the River Blackwater estuary.
He was a member of The Stone Watersports Club in St Lawrence, on the southern shore of the estuary.
PC Dawn Wood told the coroner's court in Chelmsford: "Everyone was looking back towards the young boy who was water skiing [at the time of the accident]."
Mrs Beasley-Murray said: "What a tragic accident at the end of what sounds like a delightful day out on the boat.
"I would again like to express my sympathy to his family.
"He was a very sociable person with many friends and was a much-loved family man."