Dangerous cocaine batch warning after man dies in Colchester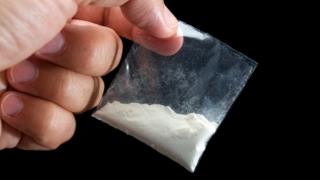 A warning has been issued about a potentially dangerous batch of cocaine following the death of a man.
Essex Police said the 22-year-old and a woman, 20, both from Colchester, were taken to hospital at 02:50 GMT after becoming unwell at a property in Egerton Green Road in the town.
The man later died and his death is being treated as unexplained, a spokesperson for the force added.
The woman remains in hospital in a stable condition.
Two men, a 20-year-old from Elmstead and a 35-year-old from Colchester, were arrested at the scene on suspicion of drugs offences and remain in police custody.
Birthday party
Det Insp Kev Hughes said it was understood people at a birthday party were out drinking in the Shrub End area of Colchester on Friday, and that at some point cocaine was bought and taken by some of those there.
"We are concerned there may be a potentially dangerous batch of drugs being sold in the area which pose a direct threat to the safety of those who've bought them and are using them," he said.
"I have concerns for the safety of anyone whom may have bought cocaine in Colchester or surrounding areas in the last 24 hours or so, and would appeal to you not to take it."
He advised anyone who may have taken the drugs who starts to feel unwell, to seek medical attention immediately.
Anyone with any information about the drugs or where they came from has been urged to contact Colchester CID on 101 or Crimestoppers anonymously on 0800 555 111.