John Pordage murder: Bradley Blundell appears in court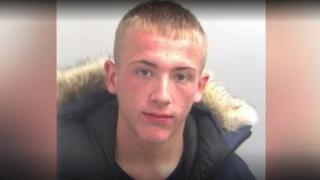 A teenager accused of murdering an electrician fled the country by hiding in the boot of a car being driven to France.
Bradley Blundell, 19, also travelled to Germany, Spain and Holland after John Pordage was shot at a petrol station in Chelmsford, Essex.
Mr Blundell, of Boreham, denies killing 34-year-old Mr Pordage in August 2017.
He told Woolwich Crown Court that his friend - who cannot be named for legal reasons - fired the fatal shot.
The teenager, who handed himself in to police in Amsterdam in March, also denies possessing a firearm with intent to endanger life and conspiracy to pervert the course of justice.
In court Mr Blundell, of Cromwell Close, admitted he "saw John fall to the floor" at the Baddow Road garage but did not call 999 because he was "panicking".
During cross-examination by prosecutor Tracy Ayling, the teenager admitted hitting Mr Pordage with a cosh following a row, but said the electrician, of Galleywood, "fell on his face" after being shot.
"It didn't look good," he said. "He's a very big man. It looked like he faceplanted the floor."
Mr Blundell told jurors he "didn't see" the gun allegedly carried by his 16-year-old friend but "just heard the shots".
After the murder, on 5 August 2017, Mr Blundell told the court his priority was to "get out of the area".
He said he travelled to Maldon to burn his clothing then was smuggled out of the country without a passport days later.
"I didn't want to be arrested," he told the court. "I was terrified, basically."
Ella Colgate, 18, of Aldridge Close, Chelmsford, is also accused of conspiracy to pervert the course of justice, which she denies.
The trial continues.