Greater Anglia: Passengers 'disappointed' by train carriage cuts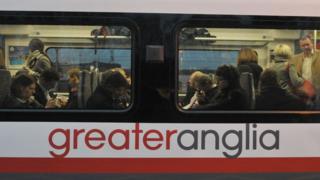 Passengers have criticised a "disappointing" decision to cut the numbers of carriages on eight trains to and from London.
Greater Anglia has apologised for any "inconvenience" caused by the changes.
One passenger group said a lack of information meant members could not plan their journeys accordingly, with overcrowding becoming worse.
The rail operator said "short-form" trains were "a better option than cancelling trains altogether".
But Greater Anglia warned it "could not guarantee" normal length trains would be in place for the December timetable.
On Wednesday, it announced on its website it was removing carriages on eight services running from Suffolk and Essex for seven weeks - from 22 October until 9 December.
It said this was to carry out maintenance and repairs on its Class 321 fleet, some of which were damaged by the effects of autumn, including leaves on the line.
Leaves compressed on the tracks "are as slippery as black ice on the roads" and can cause damage to wheels, Greater Anglia said.
A previous Twitter exchange between commuters and GA saw one passenger angry at having to tweet "every day" to find out which trains would be "short-formed" - a term the operator uses for trains which have fewer carriages than usual.
GA replied that the social media team "haven't received feedback yet in terms of the official list" of shortened trains.
The company said eight trains not running at full capacity had been chosen to be temporarily short-formed.
'Unacceptable situation'
They included the weekday 06:29 between Ipswich and London Liverpool Street, the 06:19 Colchester Town to Liverpool Street, the 08:30 Chelmsford to London and the 17:40 London to Colchester Town.
Anglia Rail User Group commented: "Rail users across the Greater Anglia network have been forced to endure short formation trains for the vast majority of 2018.
"It is disappointing the company has not felt able to be open with its customers over this ongoing and unacceptable situation."
Greater Anglia said: "We've tried to minimise the impact of autumn and the Class 321 Essex and Suffolk commuter train refurbishment project on the whole network, by reducing the size of eight services for seven weeks.
"These were selected because they weren't running at full capacity and so could withstand being temporarily short-formed. "