Dovercourt beach hut arsonists target those with gas bottles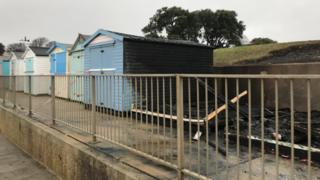 Arsonists are targeting beach huts with gas canisters inside at an Essex resort, a district council said.
Three beach huts below Cliff Park in Dovercourt were damaged in an attack in the early hours of Wednesday.
Four Tendring District Council-owned huts have also been damaged and a spokesman said: "Arsonists are kicking down doors to find one with a canister.
"Owners are urged to ensure huts are secured and users are also reminded canisters should not be left inside."
Mandy Martin, from the Harwich & Dovercourt Beach Hut Association, said the owners were "devastated, as any of us would be".
"It might just be a shed to some people, but to us it's a little slice of heaven," she said.
"I would like to thank the dog walkers and others who saw the fire and raised the alarm - it is good to know they are keeping an eye on things for us.
"But what on Earth are these people doing there at that time, when it is pouring with rain? I just don't get it."