Martin Dines: Two men found guilty of rough sleeper's murder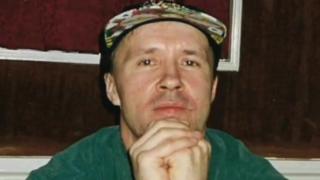 Two men have been found guilty of murdering a rough sleeper in an alleged dispute over army service.
Martin Dines' body was found with 73 injuries at a Colchester car park in April, the trial heard.
Darren Miller, 46, of no fixed address, and Mark Hartley, 32, of New Kiln Road in the town, were found guilty on Thursday at Ipswich Crown Court.
The jury is still considering its verdict for Heidi Kennedy, 47, who denies murder.
Miller had admitted manslaughter, but denied murder along with Hartley and Ms Kennedy, of Queen Elizabeth Way, Colchester.
During the trial, the prosecution said Mr Dines, who was 56, suffered a string of injuries in three separate attacks in which he was punched, kicked and stamped on.
The victim suffered a brain injury, broken ribs and cuts to his forehead, nose, ears and genitals, the court heard.
He was found in a stairwell at St Mary's multi-storey car park.
Lisa Peck, who told the court that Mr Dines was her best friend and former partner, said she had been with him in a street on 22 April before he wandered off and returned covered in blood.
She asked what had happened and he told her he had been beaten up by Miller and Hartley, the jury heard.
Ms Peck told the court: "He said he had gone around town saying that Mark Hartley hadn't been in the Paras".
She said the two men, along with Heidi Kennedy, then approached them.
She alleged that Heidi Kennedy accused Mr Dines of saying "disgusting lies" about someone who had fought for their country.
Ms Peck said she then punched him in the face, and that Mr Miller had punched him too.
Miller and Hartley had repeatedly kicked his head, as he cowered, the court heard.
Mr Dines, she said, eventually walked off towards the car park, where he was found dead.