'Stansted 15': Protesters who locked themselves to plane guilty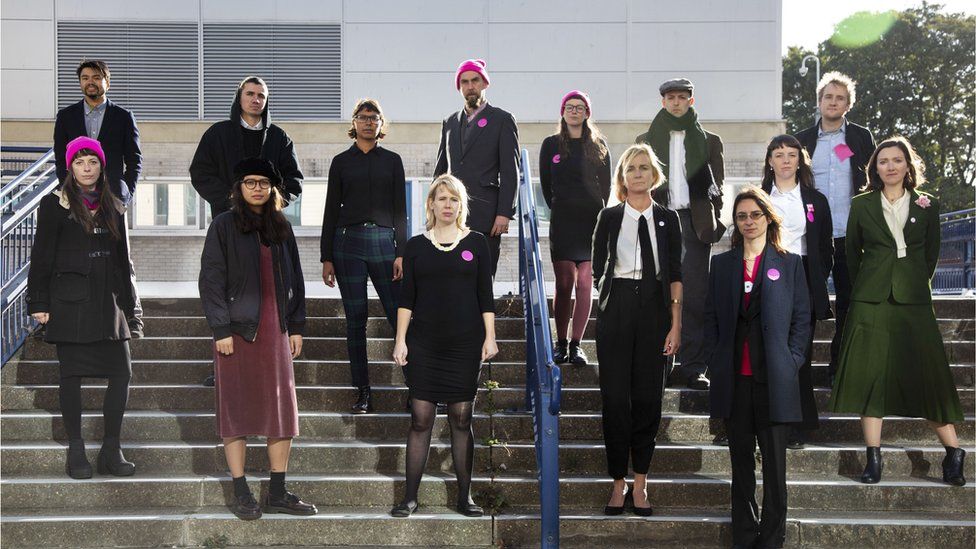 Fifteen protesters who locked themselves around a deportation plane at Stansted Airport have been convicted of an aviation offence.
The jet had been chartered by the Home Office to take people from UK detention centres to Africa on 28 March 2017.
A jury heard the so-called Stansted 15, who cut through a perimeter fence, had "placed the safety of the airport in a likelihood of danger".
Amnesty International branded the verdicts a "blow for human rights".
The group will be sentenced at Chelmsford Crown Court at a later date.
One of the activists, Benjamin Smoke, 27, of Rowley Gardens, London, told the court: "I was fighting to stop the plane deporting people to a place where they would be at risk of being killed or seriously harmed."
Amnesty International's UK director Kate Allen described the verdicts as a "crushing blow for human rights in the UK".
The court was told the protesters secured themselves around the nose wheel and wing of the Boeing 767, which was due to transport people for repatriation to Nigeria, Ghana and Sierra Leone.
They locked themselves together with pipes and foam, having cut a 3ft by 3ft (1m by 1m) hole in the perimeter fence.
Airport security and police spent hours removing the defendants before their arrests and flights in and out of the Essex airport were delayed as a result.
The defendants had denied a single charge of intentional disruption of services at an aerodrome.
Ms Allen said: "The terrorism-related charge against these individuals was always a case of using a sledgehammer to crack a nut.
"It's deeply disturbing that peaceful protesters who caused disruption but at no time caused harm to anyone, should now be facing a possible lengthy prison sentence.
"This whole case will send a shiver down the spine of anyone who cares about the right to protest in our country."
Brighton Pavilion MP and former Green Party leader Caroline Lucas said she found the convictions "absolutely shocking".
Judith Reed, of the Crown Prosecution Service, said: "Fifteen protesters used equipment such as industrial bolt cutters, chains, expanding foam, scaffolding poles and lock box devices to prevent the take-off of a plane.
"These people placed themselves, the flight crew, airport personnel and police at serious risk of injury or even death due to their actions on the airfield.
"The CPS worked with the police to build a strong case which reflected the criminality of the defendant's actions, regardless of their motivation."
Helen Brewer, 28;
Lyndsay Burtonshaw, 28;
Nathan Clack, 30;
Laura Clayson, 28;
Melanie Evans, 35;
Joseph McGahan, 35;
Benjamin Smoke, 27;
Jyotsna Ram, 33;
Nicholas Sigsworth, 29;
Melanie Strickland, 35;
Alistair Tamlit, 30;
Edward Thacker, 29;
Emma Hughes, 38;
May McKeith, 33;
Ruth Potts, 44
Twelve of the defendants' given addresses are in north London, Burtonshaw's is in Brighton, Potts's is in Bristol and McGahan's is in Reading.
Related Internet Links
The BBC is not responsible for the content of external sites.