Arrest after three-vehicle crash shuts M11 near Stansted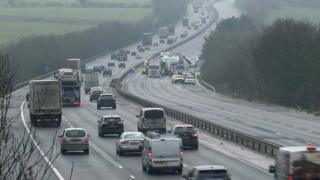 A man has been arrested on suspicion of causing serious injury by dangerous driving after a three-vehicle crash on the M11 in Essex.
The northbound carriageway was shut near Stansted following a crash between a car and two lorries at 05:20 GMT.
Highways England said the road was closed between junction six for the M25 and junction eight for Stansted Airport.
The M11 northbound lane re-opened at about 16:30 GMT.
The force said a man was taken to hospital with "serious injuries".
One person trapped in a lorry was released, Essex Fire and Rescue Service said.
Essex Police warned people against leaving their cars on the motorway and walking to Stansted Airport.
The force later tweeted that "rubberneckers" driving on the southbound M11 were holding traffic up to film the crash scene.
It added: "There will be a number of prosecution letters in the post. Unbelievable."
Emilie Errante, from Brockley, south London, missed her flight to Ireland, where she planned to spend the weekend, after being stuck in the tailback for four hours.
"We were 15 minutes away on the M11 when we came to a stop at about 05:30, we got off it at 09:30. My flight was at 07:15," she said.
Ms Errante was first offered a flight on Saturday but then told she could queue up at a Ryanair desk to possibly get an earlier flight.
"I'd have to queue for two hours but with no guarantee of a flight and I would not be able to book online, so I went home," she said.
"I am upset. Ryanair should be more resourceful in trying to help people."
The BBC has contacted Ryanair for a response.
Police are appealing for anyone with information or on the crash or dashcam footage to contact them.