Pilot killed in light aircraft crash in Belchamp Walter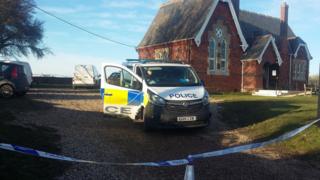 A pilot died when his light aircraft crashed in Essex.
The man, in his 50s, was the only person on board and was pronounced dead at the scene in Belchamp Walter, police said.
Essex Police said they were called to reports of a "light aircraft in distress" at 11:50 GMT.
Eight fire crews from Essex and Suffolk were also sent to the scene in Bells Road. Police said that the victim's next-of-kin had been informed.
Essex Fire Service said its firefighters reported that the aircraft - which had landed in an arable field - was alight when they arrived. The fire was extinguished by 12:49.
The crash site is about five miles from Ridgewell Airfield, the home of Essex Gliding Club, but it is not yet known where the flight originated from, or its intended destination.
The Air Accidents Investigation Branch (AAIB) said it was "aware of the incident and had deployed a team to investigate".
Jane Walker, from Belchamp Walter Parish Council, saw an air ambulance land at the site.
She said: "It is really out of the usual and I think it took a lot of people out of the blue.
"Our feelings go out to the poor man who has died and his family. Our condolences are with them."