Donald Trump visit: Student 'told to remove' protest design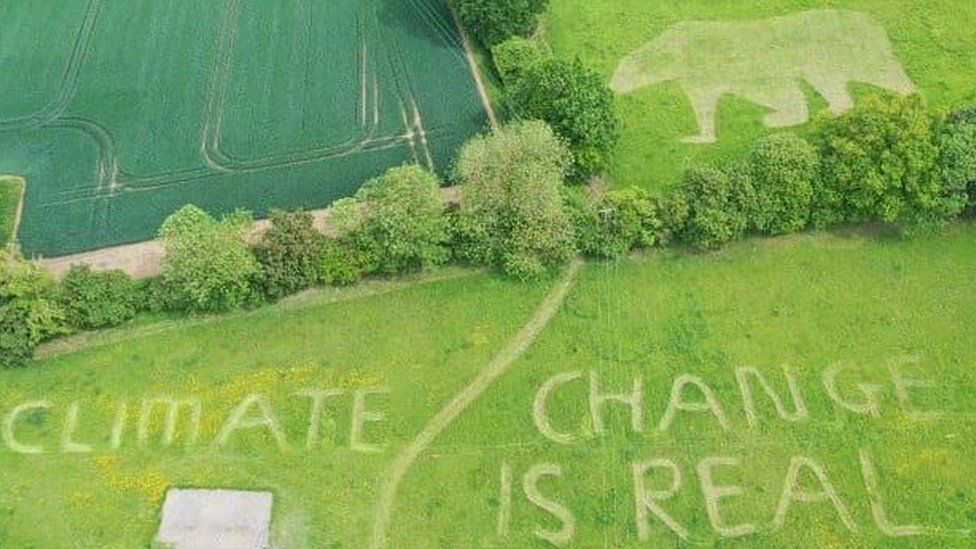 A student who mowed a rude message for US President Donald Trump under the flight path of Air Force One has been told by police to remove it.
Ollie Nancarrow, 18, cut an image of a giant penis, as well a polar bear and a climate change message, on his family's land close to Stansted Airport, Essex.
The US president arrived at the airport on Monday morning for a three-day state visit to the UK.
Essex Police said it was trying to establish if the law had been broken.
Mr Nancarrow, who is currently taking his A-levels, said he was told by Essex Police that the penis design, mown into grass at Hatfield Heath, Essex, could have breached public decency laws.
"After a visit from the police I have been advised to change it, so the penis has since turned into a sea turtle," he said.
The land where the images are mown is surrounded by trees and the pictures are only able to be seen from the air.
Mr Nancarrow said: "I never meant to cause offence, even to Trump. The idea just to raise awareness for climate change and I think I have done that."
The president has previously accused climate change experts of having a "political agenda".