Admiral Jellicoe: Fire rips through derelict Canvey pub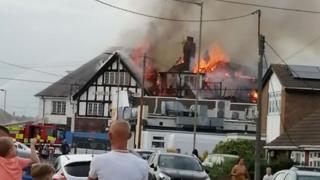 A fire has ripped through a derelict pub in Canvey Island.
The blaze at the former Admiral Jellicoe was spotted at about 19:15 BST on Wednesday.
At one stage Essex Fire and Rescue Service said "100% of the roof and much of the first floor" was on fire.
Neighbours were warned to keep windows and doors closed and the blaze was "fully extinguished" at about 04:45. An investigation into the cause has begun.
Essex Police said: "Due to the state of the building and the fire it has so far not been safe for a comprehensive search to be carried out."
It appealed for people with CCTV or dash cam footage to come forward.
Fire investigators said the building was known to have squatters and it would be searched, but there were no reports of any missing people.
An application to pull down the building and replace it with apartments had been lodged with Castle Point Borough Council, which said no planning decision has been made.
Linda Lester, who ran the pub between 2011 and 2014, said: "I had a phone call from a friend who told me my pub was on fire, so I came flying down and I couldn't believe the smoke.
"It was so sad to see those flames coming through the roof.
"It had so much character and was just a lovely old pub that people loved."