Basildon Hospital: 'Neglect' contributed to hours-old baby's death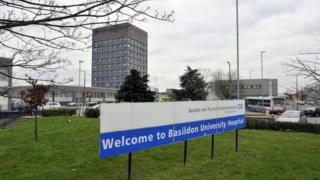 A baby boy would probably have survived had it not been for an Essex hospital's neglect, a coroner has concluded.
Ennis Pecaku died hours after his breech birth at Basildon Hospital, following "serious failings" by staff looking after his mother Louise Davies.
It came a day after Ms Davies's C-section was cancelled because of a bed shortage, Essex Coroner's Court heard.
She went into labour the next day, last September, but by the time she was examined a C-section was not possible.
Staffing shortages, communications shortcomings and issues around triage were all identified as failings surrounding Ms Davies care, the hearing in Chelmsford was told.
'Never talk or walk'
Ennis was born on 27 September 2018 at 19:39 BST and needed to be resuscitated before being taken to the neo-natal unit.
It is estimated that before birth Ennis had been asphyxiated for at least 25 minutes and he had also stopped breathing during delivery.
Six hours later, his parents were told his condition was so poor he would never walk or talk, and they decided to switch off his life support in the early hours of 28 September.
"There were serious failings in the care provided to baby Ennis and to his mother by Basildon Hospital. More timely intervention would probably have resulted in a better outcome," senior coroner Caroline Beasley-Murray said in a narrative conclusion.
"Baby Ennis would probably have survived if born any time before 19:16 on 27 September 2018. [His] death was contributed to by neglect."
'Devastating loss'
After the hearing Ennis's parents, from Grays, Essex, said: "We are glad of the conclusion of the coroner and that the series of failings identified of providing basic medical care to Louise and baby Ennis amounted to neglect.
"Nothing will ever change the outcome for our family and the devastating loss of our son."
Diane Sarkar, chief nursing officer at Mid and South Essex University Hospitals Group said the hospital was aware "the care provided at that time was not of the standard we would expect. "
"We will ensure we learn every possible lesson from this tragic event", she said.
A number of changes have been made at the hospital following Ennis's death.