Essex: Clacton teenagers share a century of seaside memories in youth project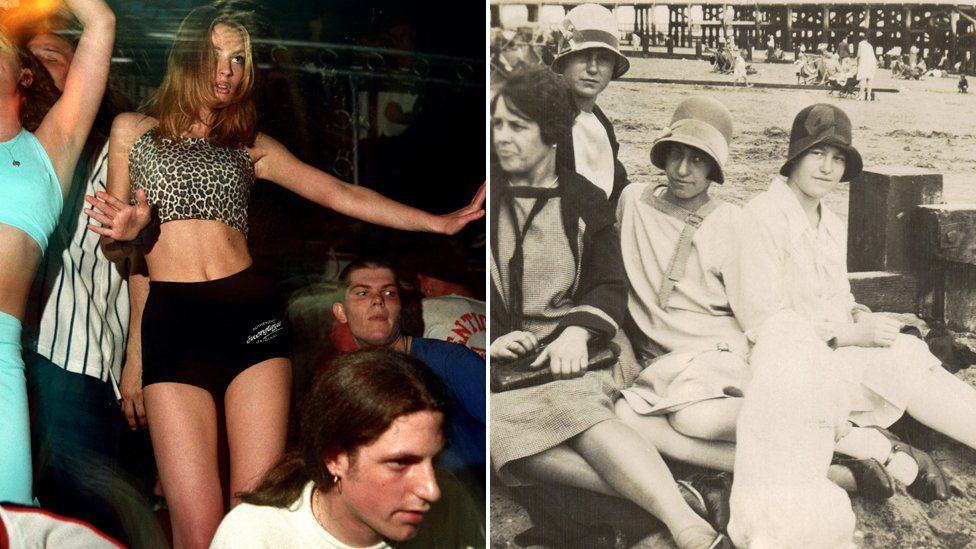 Stories of first love, pirate radio stations and Saturday jobs have been shared in an exhibition about childhood and teenage life in a seaside town.
Grown Up in Clacton is a pilot project by the Museum of Youth Culture which asked people to share their memories and photographs to add to its archive.
"Being young is seen as a good time people want to share," said its archive project manager.
Nearly 400 images dating from 1910 to the present day were submitted.
Archive project manager Lisa der Weduwe said teenagers in Clacton were able to access new music, their venues hosted well-known 1960s bands and international DJs played the pier.
Contributor Martin Croxford, 72, said: "Music was part of growing up in Clacton in the 1960s and we were swept along in that - especially with the best of American music."
The summers brought holidaymakers, new fashions and styles - as well as seasonal jobs.
Mr Croxford said: "They were fantastic days - the pavements were so packed you couldn't walk on them."
Sisters Sue and Margaret Fairclough also had happy memories of being teenagers in the 1960s with "freedom, great music and good clothes".
A youth photography workshop was held to help tell the story of Clacton from the perspective of today's teenagers.
Ms der Weduwe said: "People loved talking about Clacton in their youth and wanted to celebrate the town - even today's teenagers love it.
"It's still a great place to grow up."
During the four-month project oral histories were collected from 32 people.
The Museum of Youth Culture is currently a virtual collection but hopes to have a physical museum in the long term.
It received an Arts Council grant of £10,000 to deliver the project, and wants to take it to towns and cities around the UK.
The exhibition runs at 3 Central Parade, Rosemary Road, Clacton until 5 March, open 12:00-16:00 GMT Tuesday-Sunday.
Related Internet Links
The BBC is not responsible for the content of external sites.