Essex lorry deaths: Victims 'tried to break through roof'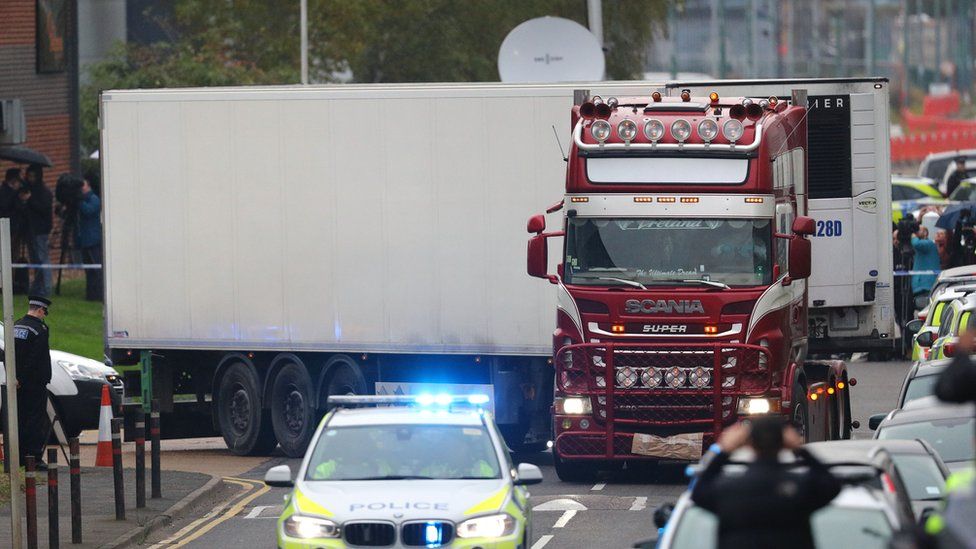 Thirty-nine people who died in the back of a lorry trailer tried to break out through the roof as they ran out of oxygen, a court has heard.
The Vietnamese nationals, aged between 15 and 44, suffocated as they were transported from Zeebrugge in Belgium to Purfleet on 23 October last year.
The court was told people smugglers got "greedy" and attempted "two loads in one".
Four men are on trial at the Old Bailey in connection with the deaths.
Some of the people recorded goodbye messages to their families.
Nguyen Tho Tuan, 25 recorded a message for his wife and children saying "I am sorry. I cannot take care of you. I am sorry. I am sorry. I cannot breathe.
"I want to come back to my family. Have a good life."
When police officers entered the trailer the next morning they found the migrants had used a metal pole to try to break out of the sealed unit, the court heard.
A forensic expert calculated it would have taken about nine hours for the air to turn toxic in the trailer, soon after resulting in death.
Prosecutor Bill Emlyn Jones told jurors: "It may well have crossed your minds - why did this trip go so terribly wrong, when on the other occasions the migrants survived the trip and were safely unloaded?
"You may well conclude that on this occasion the criminals just got too greedy, at £10,000 a head.
"They had too many people loaded into a single lorry."
Jurors were told there had been identical and successful trips with fewer people on 11 and 18 October.
Mr Emlyn Jones suggested they may have been "under pressure to double up" after 20 migrants were removed from a lorry driven by Christopher Kennedy, one of those on trial, on 14 October near Eurotunnel in France.
At least two of the migrants discovered in Mr Kennedy's lorry on 14 October were found dead in the trailer at an Essex industrial estate nine days later.
A port worker who drove the unaccompanied trailer off the ship just after midnight noticed a pungent smell "similar to waste", the court heard.
Gheorge Nica, 43, of Basildon, Essex, and Eamonn Harrison, 23, of Mayobridge, Co Down, Northern Ireland, deny 39 counts of manslaughter.
Mr Harrison, Mr Kennedy, 24, of Co Armagh, Northern Ireland and Valentin Calota 37, of Birmingham, deny being part of a wider people-smuggling operation, which Mr Nica has admitted.
Related Internet Links
The BBC is not responsible for the content of external sites.