Colchester baby's parents feel 'abandoned' over £1.7m drug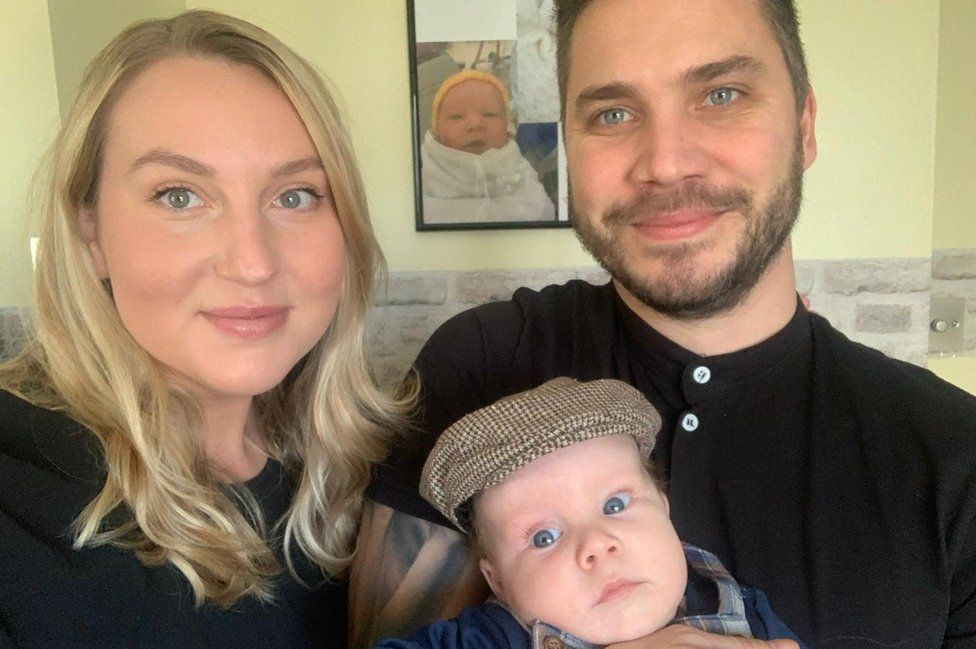 A baby with a fatal genetic condition has been "abandoned" in a "race against time" for the world's most expensive drug, his parents said.
Eight-month-old Edward, from Colchester, has severe spinal muscular atrophy (SMA), meaning he lacks a protein vital for muscle development.
The new gene therapy Zolgensma would transform his life but Edward has not been approved to have it as yet.
NHS England says doctors will assess who will receive the £1.79m treatment.
Edward's mother Megan Willis, 29, said: "There was this big fanfare when the drug was approved and we were ecstatic but now we feel like it gave us false hope.
"Edward needs this drug now. This is a race against time for us. The older he gets, the less effective it could be.
"This could be the difference between him being able to stand or not. Our doctor can't seem to get any information and we just feel like we have been abandoned."
Zolgensma is thought to be the most expensive drug in the world, at a cost of £1.79m per patient, though NHS England said it had negotiated an undisclosed discount.
It approved the drug in March and hopes to start delivering it later this month.
About 65 babies are born with SMA in England each year. It causes muscle weakness and affects movement and breathing, meaning most babies do not live past the age of two without intervention.
In studies, Zolgensma has helped babies breathe without a ventilator, sit up on their own and crawl and walk after a single treatment.
Doctors say the drug, which contains a replica of the missing gene SMN1, needs to be given as early as possible to halt the progression of the disease.
Edward, who was diagnosed at two months old, receives injections of another drug called Spinraza every four months at Addenbrooke's Hospital in Cambridge.
Spinraza can help slow degeneration in some patients, but is a treatment rather than a cure.
It involves regular injections in the spine for life, compared to the one-off injection of Zolgensma.
Ms Willis and her partner John Hall said it would be cheaper in the long run to treat their son with the drug because it was a one-off transfusion rather than multiple injections a year for the rest of his life.
When it was approved, guidelines set by the National Institute for Health and Care Excellence (NICE) said it should only be used for babies under six months old who were not already being treated, which would exclude Edward.
NICE said a decision on whether to give it to other babies would be dealt with on a case-by-case basis.
"No parent should have to go through this stress," Ms Willis said.
"I can't just sit here and let this happen, I can't fail Edward. This is really cruel and we just need some answers.
"We will do anything we can and we will just keep fighting."
A spokesperson for NHS England said: "Since the gene therapy Zolgensma was approved for use in March the NHS has been undertaking a rigorous process to identify centres of excellence to deliver this landmark treatment.
"The four centres have now been identified across the country and will begin delivering the treatment to patients with SMA this month, with an expert clinical team making decisions on whether the treatment is appropriate for individual patients."
Related Internet Links
The BBC is not responsible for the content of external sites.