'Twinkle Twinkle' sisters' Colchester statue gets go ahead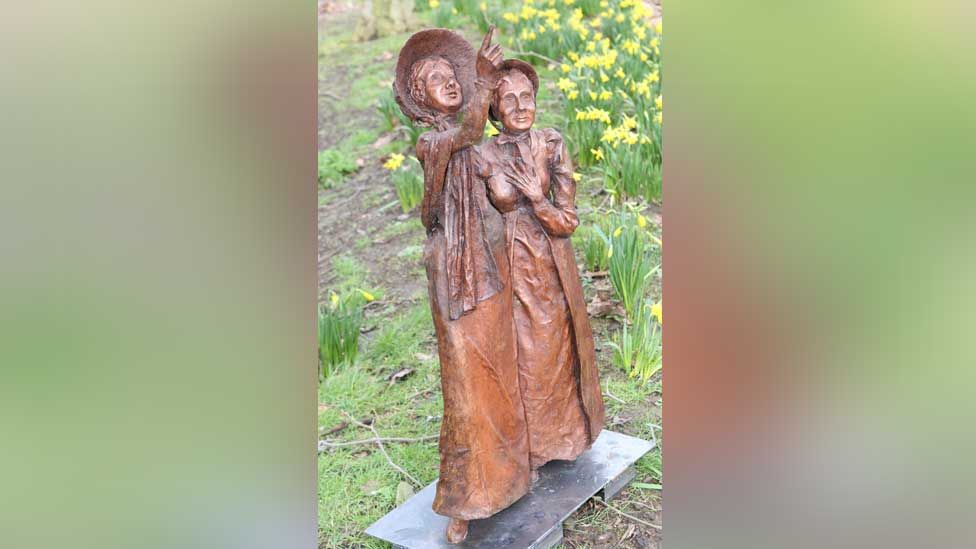 A statue of a poet who wrote Twinkle Twinkle Little Star and her poet sister has been approved.
The life-sized depiction of sisters Jane and Ann Taylor will sit in Colchester's High Street, as long as £75,000 is raised to pay for it.
The statue was commissioned by former MP Sir Bob Russell and "dedicated to the children of the world".
Sir Bob said he hoped it would eventually raise money for children in the town.
The Taylor sisters, who both wrote children's poems, lived in West Stockwell Street, Colchester, from 1796-1810.
In 1806, Jane wrote and published a poem called The Star, the first verse of which would later gain fame as the lyrics to the famous nursery rhyme.
The statue, designed by local sculptor Mandy Pratt, will be 1.8m (5ft 10in) high in total, with Jane pointing at a star. Its two-metre (6ft 6in) wide star-shaped base, will have children's handprints cast on to the side.
"This is something which I have been thinking about for several years," Sir Bob said.
"It's dedicated to the children of the world and if it does become something with merchandise, as the Little Mermaid in Copenhagen has become... then the intention is that any proceeds would go to the office of the mayor for him to dispense for the benefit of children in Colchester."
He said the vote was a "huge step forward" and he had already raised £9,000 of the £75,000 required from his fortnightly heritage "walks and talks" and donations.
Pratt is known for her bronze sculpture of Colchester United footballer Peter Wright, originally unveiled in Layer Road, Colchester United's old ground, but it was later moved to the Colchester Community Stadium.
Related Internet Links
The BBC is not responsible for the content of external sites.