Ryanair sorry it made autistic Harlow boy take Covid test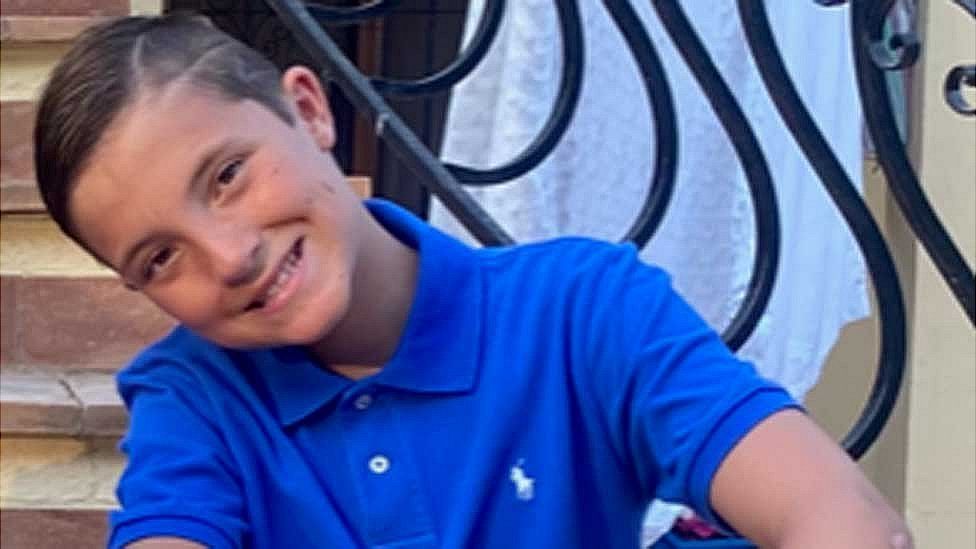 Ryanair staff in Spain made an autistic boy have a Covid test before boarding a flight, despite having an exemption letter, his mother has said.
Katy Hollingsworth, who was travelling to the UK from Valencia with her son Callum, 12, said he was "petrified".
"They said if you don't have a Covid test you can't go home, so we had no choice," said Ms Hollingsworth, who is from Harlow in Essex.
The airline has apologised and says it "regrets to hear of the stress" caused.
Callum, who also has attention deficit hyperactivity disorder (ADHD), had struggled with lockdowns, so the family wanted to take him for a break to his "happy place" in Spain.
Ms Hollingsworth said his one previous test in January had been "a nightmare", so his doctor had provided a medical exemption letter.
He did, however, have a test before he left the UK, but his family said they spent two months preparing him for this.
Government guidance says people with medical conditions which mean they cannot take a test, do not need one to travel to the UK, providing they "present a note from a medical practitioner at check in".
On their return on 3 August, the family was told at the airport that Callum must have another Covid test in order to return to England, despite showing Ryanair staff the letter.
Ms Hollingsworth said Callum "lost it" and had a "meltdown because he thought it was his fault".
"He started hitting the chair and then started hitting himself," she said.
"The staff were just ignoring us. All they kept saying was 'it's not our problem'."
Ms Hollingsworth said while they were not "rude or aggressive", voices were "raised" and police were called to help.
"My husband then had to physically restrain my son with two members of staff to try to get him to have a test," she said.
"Callum tried to be brave but he was petrified.
"The fact that he didn't need this one made it even worse because we'd told him the previous one was going to be his one and only test."
A spokesman for the airline says it "regrets to hear of the stress" caused to the family.
"Ryanair fully complies with EU and government travel restrictions, which are constantly changing in the midst of the Covid-19 pandemic," a statement said.
"We continue to make improvements and implement procedures to ensure the health and safety of our passengers and our crew is prioritised while complying with each country's government guidelines at all times."
Ms Hollingsworth said she now hoped it would not happen to others with hidden disabilities.
"If my child was in a wheelchair or had something you can see, I don't think they would have treated him the way that they did," she said.
Related Internet Links
The BBC is not responsible for the content of external sites.