Council hires security to guard Banksy-style Harwich mural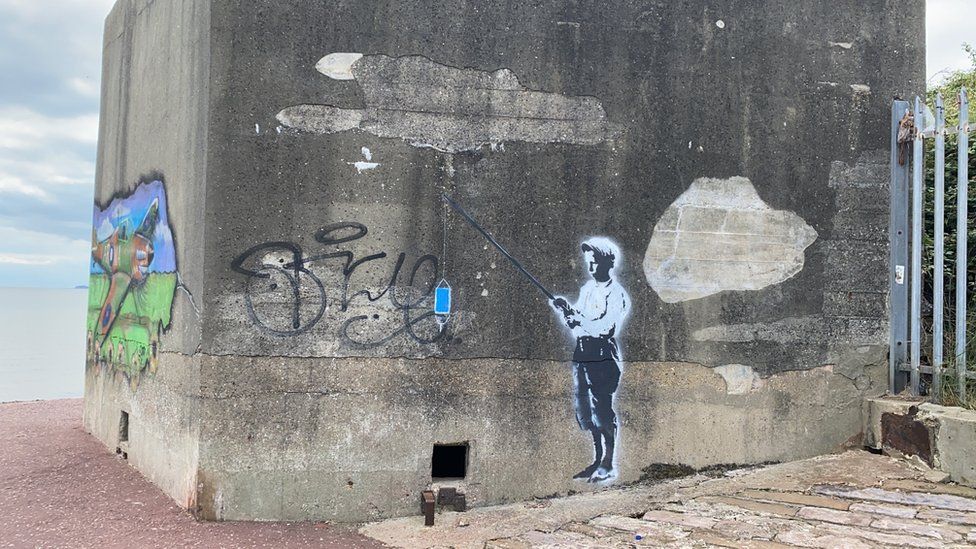 A council which was criticised for painting over a Banksy mural has put security at the site of a new artwork it hopes is by the elusive artist.
The mural of a boy holding a fishing rod with a blue face mask attached to it was first spotted early on Wednesday, on the sea wall at Stone Pier in Harwich, Essex.
Tendring District Council said it "immediately" put security in place.
In relation to the artwork of the boy fishing, a spokesman said: "We immediately put security in place and are taking further steps to protect this artwork as we await confirmation that it is indeed the latest piece of the artist's 'Spraycation' in East Anglia."
Earlier this month, 10 murals by Banksy appeared in various locations across Norfolk and Suffolk, in what the artist dubbed as "A Great British Spraycation".
The mural Banksy created in 2014 showed a group of pigeons holding anti-immigration banners towards an exotic-looking bird.
It was removed before the artist had claimed the work on his website, with the council saying it had received a complaint that it was "racist".
The mural of the boy fishing is on a building which also features an artwork created by Aroma in 2019. The street artist highlighted the new mural on his Instagram account earlier, asking if the work was by Banksy.
People have been gathering around the work and posing for photos alongside it.
Banksy normally confirms his artworks via his website and Instagram account.
Related Internet Links
The BBC is not responsible for the content of external sites.