Covid: The Basildon theatre where booster jabs take centre stage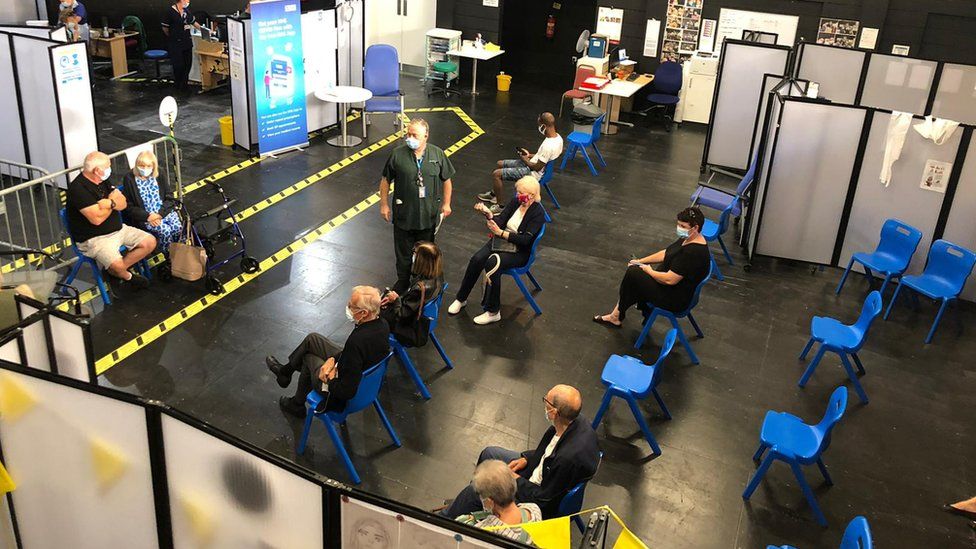 Millions of people are being offered booster Covid vaccines from this week. How do those receiving the third jab feel about it?
The Towngate Theatre, in Basildon, Essex, has flipped from arts venue to health hub.
More than 270 people received a booster jab on Tuesday with a further 500 to follow on Wednesday.
Among those having their Covid booster jab is Anna Shearing, 87, of Wickford.
The grandmother-of-five booked her appointment online on Tuesday and is pleased to get a next day appointment.
"If you've got to do it, you do it quickly to avoid the rush," says Mrs Shearing.
"I'm very happy I've had it."
Mrs Shearing has three sons and a daughter and says it's been a delight to see her family again after her initial Covid vaccinations in December and January.
The widow, whose husband Peter died 15 years ago, says last year her only contact with her grandchildren was on the phone.
"It's been lovely over the summer holidays - a lot, lot better," she says.
The chance to be reunited with her family face-to-face also makes her feel more hopeful about her future.
"Things are a little bit better but not good enough, hopefully they will get better though," she says.
'It won't alter how I do things'
Brian Atkinson, 81, made the 17-mile (27km) trip to the Basildon clinic from his home in Chelmsford to get his booster.
The only available appointment in his home city is not until next week, putting his holiday plans to Wales in jeopardy, having already cancelled them three times.
The retired Marconi worker says it will be the first time he's travelled away since the pandemic struck.
"I'd rather have the vaccination earlier rather than later so Basildon was logical, it was the next one on the list," says Mr Atkinson.
He says having the booster jab will offer him further reassurance about keeping in good health.
"It won't alter how I do things - I'm still very, very careful when I go out," he says.
"I don't think many people are now - I always wear a mask, always washing my hands and testing twice a week."
The married grandfather-of-five, who has three children, says despite the risks the pandemic still poses, he feels as though his life is getting back on track.
And that includes being able to collect his youngest grandchildren - aged four and eight - from school later on Wednesday.
"They're a lovely age," says Mr Atkinson. "The last time we had them over it was all in the garden: treasure hunts, playing with sand and water."
Who can get Covid booster jabs?
Older adults in residential care homes
All adults aged 50 years or over
Frontline health and social care workers
People aged from 16 to 49 with underlying health conditions that put them at higher risk of severe COVID-19
Adult household contacts of immunosuppressed individuals
The government's vaccine advisers, the Joint Committee on Vaccination and Immunisation, say about 30 million people should be offered the boosters
'I think everybody should have it'
Great grandmother Jane Molyneaux, 88, says she didn't hesitate to phone up for her latest Covid jab after receiving a text notification.
She got on the bus to take up the offer for "my own health and my children's and grandchildren's safety".
"It's given me a lot of confidence," says Mrs Molyneaux of the vaccination programme.
"I think everybody should have it - I can't see a reason why not... it's only a little pinprick, it's nothing to be scared of."
Mrs Molyneaux says although it was easy to catch up on the phone with her two children and six grandchildren at the height of the pandemic, it's been "good" to see them in person.
She's also been able to attend her granddaughter's university graduation in Northampton.
"You can go into shops and meet people," says Mrs Molyneaux.
"You've got to be careful - wipe handles down and that type of thing. It's nice to go out."
'We've got this vaccination in our arsenal'
Helping to oversee the rollout of the boosters is Louise Samouelle, matron of the Covid vaccination screening programme.
The hub, in the heart of the town, opened in March offering Pfizer jabs and is a seven-day-a-week operation, now offering all three doses.
Ms Samouelle says there is a surge in patients visiting the centre.
The total number of people getting jabbed there is expected to almost double on Wednesday compared to the day before.
"It's all been quickly implemented," says Ms Samouelle, from the Mid and South Essex NHS Foundation Trust.
"Today, we're going to be doing over 500 [of all Covid vaccines] so it's already jumped up quite dramatically.
"As a trust, we've already started doing boosters for our employees as well, so we're really trying to support the community as much as we can."
The matron, who worked in a casualty department prior to the pandemic, says the atmosphere at the centre is reminiscent of that in December when the vaccine programme was first launched.
She says people are turning up at the hub "really positive; they're really happy".
"It's really important - the NHS is going to face winter pressures," says Ms Samouelle.
"The booster jab is going to prevent people from getting poorly and it's also going to prevent loved ones from getting poorly."
While Basildon was a hotspot for Covid last winter, the local NHS trust hopes that this winter the extent of cases should be curbed.
"It is still out there but because so many people have had their vaccinations in this area, it is getting more controlled," says Ms Samouelle.
"We've got this vaccination in our arsenal of things against it."
Analysis: By Nikki Fox, BBC East health correspondent
Case rates in Basildon are still relatively high, but they're decreasing.
Ten weeks ago it was 505 cases per 100,000 of the population. By Tuesday, it was 201.
But local health officials in the town were pleased with the turnout on the first day of the local booster jab campaign.
The Department of Health and Social Care says most people will be offered the Pfizer/BioNTech or Moderna vaccine so the booster may be from a different manufacturer than the first or second doses for many.
Prof Paul Hunter, an epidemiologist from the University of East Anglia, says the booster is important for some groups."There are a lot of people who won't have responded as well to the original course of vaccine as we would have liked," he says.
"We've started already vaccinating some of those groups a couple of weeks ago... and the benefit was always very strong [to them] in the case of boosting."
Related Internet Links
The BBC is not responsible for the content of external sites.